Ellen Page Marries Girlfriend And Posts Sweet Announcement On Instagram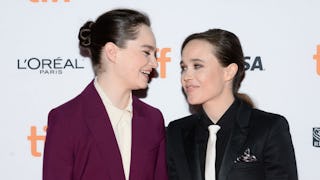 Image via Tara Ziemba/Getty
Ellen Page got married and now we're all sobbing.
Get ready to feel allll the feelings. Ellen Page announced that she tied the knot with girlfriend Emma Portner, and the pictures will 100 percent warm your cold, wintry heart.
The actress posted three snapshots on Instagram — one of her and Portner's outstretched hands wearing wedding bands, another of the two cozying up in the woods, and a candid shot of Portner. The caption read: "Can't believe I get to call this extraordinary woman my wife."
Portner, a professional dancer and choreographer, also took to social media to share the good news, writing: "I get to call this incredible woman MY WIFE! @ellenpage I LOVE YOU!"
If you're currently beaming and clutching multiple pillows right now, it's very much okay. You're not alone. Pretty much the entire Twitterverse is bursting with giddiness over the news.
So yes, the general consensus is that we're all super happy that Ellen Page and Emma Portner are getting married. We're also all super disappointed that we, ourselves, are not marrying Ellen Page. You win some, you lose some.
It's pretty fitting that the two made their official wedding announcement on Instagram — seeing as it's the very same platform where their courtship began. Page slid into Portner's DM's after watching one of her videos on Instagram, and then the two were off and running. They made their first public appearance together back in September, when they walked the red carpet hand-in-hand for the premiere of Page's film Flatliners.
"It's quite crazy," Portner told The Cut about Page's celebrity. "But if anything, I'm happy for it. We try to hold hands in public. I try to join her at movie premieres. If we were a straight couple, I don't think we'd push it so much. But it's a chance for queerness to be out in the open."
It's pretty hard to believe that's been four years since Page stood up at the Human Rights Campaign's Time to Thrive conference, and came out in front on several hundred audience members (and millions of viewers at home).
"I am tired of hiding and I am tired of lying by omission," she said. "I suffered for years because I was scared to be out. My spirit suffered, my mental health suffered and my relationships suffered. And I'm standing here today, with all of you, on the other side of all that pain."
Sending so, so much love to the happy couple. Also, we should all probably go re-watch Juno for the millionth time, because today is officially Ellen Page Appreciation Day, and you best be celebrating.