Ellen Pompeo Just Showed The World What It Means To Be An Ally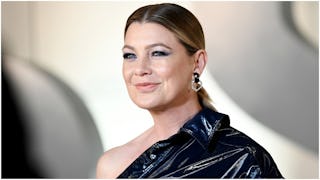 Image via Emma McIntyre/Getty
Ellen Pompeo called out a magazine for their lack of diversity and we're here for it
The internet's currently applauding Ellen Pompeo big time for speaking out about a magazine shoot's lack of diversity. The Grey's Anatomy star sat down for a segment with Net-A-Porter about sexism, racism, and the gender pay gap in Hollywood – and then got very real about Net-A-Porter's own shortcomings.
Pompeo began by saying that the day had been "incredible" and there was "a ton of women in the room." However, she added: "I don't see enough color. And I didn't see enough color when I walked in the room today."
The moment is really something else.
The Twitterverse quickly cheered Pompeo on for speaking out and holding Net-A-Porter accountable for their lack of diversity. Many also noted that the actress was demonstrating what it really means to be an ally.
Pompeo didn't stop there. She went on to say that she's pushing powerful people in the industry to hire more diverse workers and holding them accountable.
"I had a meeting with a director of another endorsement project that I'm doing where I said, 'You know, when I show up on set, I would like to see the crew look like the world that I walk around in every day,'" Pompeo said. "I think it's up to all productions to make sure that your crew looks like the world we see."
She noted that, as a white person, this is important, necessary, mandatory action. "It's our responsibility to make sure we speak up in every single room we walk into." she said. "…It's our job, because we created the problem."
Pompeo has become the master of loudly, proudly, and candidly speaking her mind. In January, she opened up to The Hollywood Reporter about negotiating her $20 million dollar salary on Grey's Anatomy – and all of the challenges that stood in her way.
"For me, Patrick [Dempsey] leaving the show [in 2015] was a defining moment, deal-wise. They could always use him as leverage against me — 'We don't need you; we have Patrick' — which they did for years. I don't know if they also did that to him, because he and I never discussed our deals," she said. "…At one point, I asked for $5,000 more than him just on principle, because the show is Grey's Anatomy and I'm Meredith Grey. They wouldn't give it to me."
Well, that's completely infuriating. She added that, as a woman, it can be very difficult to ask for what you want. You worry about coming off as being too greedy or too ungrateful. Then, she realized how much she was actually worth to her company.
"CAA compiled a list of stats for me, and Grey's has generated nearly $3 billion for Disney," Pompeo said. "When your face and your voice have been part of something that's generated $3 billion for one of the biggest corporations in the world, you start to feel like, "OK, maybe I do deserve a piece of this.'"
Seeing Pompeo standing up for not just herself, but others in the industry in need of allyship is truly something, but it shouldn't be — as she so brilliantly said, it's on every white person to do the exact same in every room they walk into.
This article was originally published on