We Should All Take Hints On Salary Negotiation From Ellen Pompeo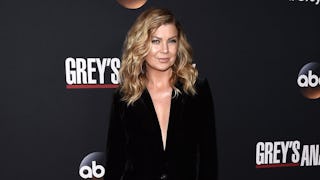 Image via Amanda Edwards/WireImage
Ellen Pompeo's latest interview is not one to miss
Who knew Meredith Grey was such a business powerhouse? If you haven't read her latest interview with The Hollywood Reporter, buckle up buttercup. Because it's one hell of a ride — and you won't be sorry you got in the car.
For starters, she shares exactly how she negotiated her $20 million dollar salary and her real feelings about Patrick Dempsey's departure.
In short, it's a must-read. And there's plenty of it to highlight, so get ready.
Her newly negotiated salary means Pompeo is officially now the highest-paid actress on a primetime drama, and, if we're being honest, she damn well should be. She's dedicated 14 years of her life to the character of Meredith Grey and a rigorous 24-episode season each year.
While you might be thinking it's kind of insane for anyone to be making $20 million per year — and it is, on many levels — you've got to hear her out on this one. Especially when you factor in how long it took her to ask for what she thinks she's worth, when, according to her, a man would go into negotiations and not think twice about "going in hard and asking for the world."
Pompeo says her age and experience have made her feel comfortable in asking for what she wants. "The truth is, anybody can be good on a show season one and two. Can you be good 14 years later? Now, that's a fuckin' skill."
Think about it, though. Her talent and dedication to her role is what's kept it going for nearly a decade and a half. The show is called Grey's Anatomy, for crying out loud — without "Grey," there's no show.
"When your face has generated $3 billion for one of the biggest corporations in the world, you start to feel like, 'OK, maybe I do deserve a piece of this.'"
OWN YOUR POWER, GIRL. OWN. IT.
Fans of Grey's Anatomy will no doubt recall the monumental turning point of the show: Patrick "McDreamy" Dempsey's sudden departure in 2015.
"For me, Patrick [Dempsey] leaving the show was a defining moment, deal-wise," Pompeo says. "They could always use him as leverage against me — 'We don't need you; we have Patrick' — which they did for years." Not sure how a McDreamy's Anatomy would have gone over with fans, so it's kind of nuts to hear ABC used that kind of tactic. Pompeo says she's not sure if they used the same leverage against Dempsey, because he "was never interested" in discussing deals with Pompeo.
"At one point, I asked for $5,000 more than him just on principle, because the show is Grey's Anatomy and I'm Meredith Grey," she says. "They wouldn't give it to me."
So why didn't she walk away from the show altogether? "Why should I walk away from a great part because of a guy? You feel conflicted but then you figure, 'I'm not going to let a guy drive me out of my own house.'"
Excuse me while I faint due to over-admiration because Ellen Pompeo is my new idol.
After Dempsey's departure, she says she went on vacation to emotionally decompress from the stress of it all. She says the studio wasted no time in getting her approval to replace him. "I was like, 'Are you people fucking nuts? Why do you feel that you have to replace this person?' I couldn't believe how fast the studio and the network felt like they had to get a penis in there."
She credits her mentor and boss, Shonda Rhimes with helping her assert herself as a businesswoman, producer, and director. "Look, I only have a 12th-grade education and I wasn't a great student, but I've gotten an education here at Shondaland."
When she's not busy running her show, Pompeo is mom to two girls and a boy with husband Chris Ivery. She says her oldest daughter frequently comes to see her work on set.
"And now my 8-year-old daughter gets to come here and see fierce females in charge," she says. "She loves to sit in the director's chair with the headphones on yelling 'Action' and 'Cut.' She's growing up in an environment where she's completely comfortable with power. I don't know any other environment in Hollywood where I could provide that for her. Now I hope that changes. And soon."
I hope I can speak for all of us when I say: Ellen Pompeo, you are our person.
This article was originally published on