Ellen Giving Up On Her Puzzle Before She Starts Is All Of Us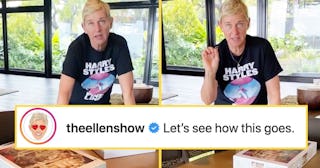 Ellen DeGeneres/Instagram
Ellen is trying to stay busy with a 4,000-piece puzzle amid coronavirus social distancing and is hilariously failing
As pretty much the entire country (and most of the world) attempts to maintain social distance amid coronavirus-related school and work closings, people are looking for ways to stay busy. Well guess what, guys? Ellen's found one. Puzzles! A 4,000-piece puzzle, that is. She's posting a series of hilarious Instagram videos chronicling her absolute failure at getting the thing done — and it's extremely relatable.
Like all of us full of stupid hope when we attempt putting together a really big puzzle, Ellen starts off cheery and optimistic. "I'm bored, I'm sure everybody's bored," she says. "I remembered I have a 4,000-piece puzzle and this is what it's gonna look like that when I'm done," she says, holding up the box.
"So this is what I'm gonna do to keep busy. And it's gonna keep me busy for at least an hour," she says confidently. "I haven't done them in a long time but shouldn't be that hard, right?"
Uhh…. not right.
In her next video update, Ellen says that, alas, she counted and there were only 3,999 pieces in her puzzle instead of the promised 4,000. As she points out, doing a whole puzzle only to discover you're short that last crucial piece is super frustrating. She's now going to move on to reading a book.
Oh, wait — she found the missing piece under the table. GAME BACK ON.
But now, she's faced with the daunting task of turning over all 4,000 pieces in order to get them sorted and ready for puzzling. She points out that no one is helping her, just filming her progress. Sigh. It's hard being the only puzzle genius in the house.
Hours later, she posts yet again declaring that "4,000 pieces is ridiculous" and that whoever bought this giant puzzle is going to hear from her. Ellen also notes that she doesn't even have a table big enough for 4,000 pieces. "Who does?" she wonders.
Not me. Got a 300-piece puzzle done the other night that took up most of my coffee table, was missing a piece, and had several warped ones. Like, she's not wrong — getting the whole thing done only to find ONE stupid piece is missing is beyond frustrating. Don't buy puzzles at the dollar store, kids.
Ellen is legit every single one of us who has started off with good intentions of finishing a complicated puzzle only to find every possible excuse to give up. As we all corona-quarantine, we're looking for ways for ourselves and kids to pass the time and puzzles seem like a natural fit (see what I did there?) but sometimes, they're just too much.
Which is probably why Ellen's latest update is simply a cozy couch pic. We completely support it.