Elton John: 'I Never Thought I'd Actually Be a Father'
by Jeanne Wolf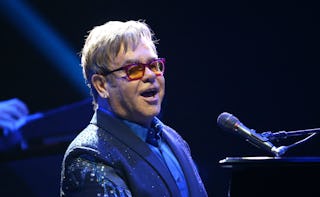 The "Rocket Man" loves a live audience, but nothing can top the love he has for his two young sons with longtime partner David Furnish. The 67-year-old star talks to The Mid contributor Jeanne Wolf about fatherhood, inspiration, and the possibility of retirement.
What do you enjoy most about performing in Las Vegas?
It's more exciting now than it's ever been. I've never done a show like the one here. It's a real production. The audiences are amazing and it's unbelievable who you can come across on any given night—from celebrities to fans from different parts of the world.
How does the thrill of performing compare to raising two children?
I knew it would be enchanting, but it's even more enchanting than I ever thought. I've done quite a lot for children with the AIDS Foundation, so I have many godchildren. It's just that I never thought one day I'd actually be a father. As long as David and I bring up Zachary and Elijah to be loving and compassionate boys, then I'll be very happy. The little soul that you're feeding and you're telling bedtime stories to is a blank canvas and all it needs is love and nurturing.
© Larry Busacca/Getty
Do your kids influence your music?
Having a child will make you feel different in every sort of way. It's bound to be a reflection of what I do musically in some way or other. It's bound to inspire me.
You've written so many hit songs. Is it a challenge to top yourself?
I've never had writer's block. I don't write songs every day. I leave large gaps in between so that by the time I get to write something I feel inspired because I'm hungry. I'm hungry to write. It's like when a lion doesn't eat for a long time and then goes for the kill and it eats. I couldn't write every day. That's the way it works and I've never gotten fed up with it.
Retirement doesn't seem to be in your vocabulary. Do you ever think about it?
No! I'm a workaholic. I have a lot of energy. I work hard. I have a great partner in David, and, now, our two perfect sons. I lead a healthy lifestyle. My life is probably not as balanced as it should be, so I may slow down a little bit.
Do you have a long-term plan?
I don't know what's around the corner and that's kind of the way I like it. It just happens by accident. You never know what gig you're going to be offered—one show or project can change your whole life. So I don't really have ambitions other than I just want to work and do excellent stuff.
What gets you excited about life?
I think love is what really gets me excited about life. I love my partner and my sons, I love my life, and I love what I do. We live in an era where there is so much negativity, there is so much violence in the world, there is so much unrest and people are at war, that I want to promote love in my life and in my work. That is what keeps me going. I am blessed to have the life I have.
This article was originally published on