Elton John Is "Overjoyed" JoJo Siwa Joined The LGBTQ+ Community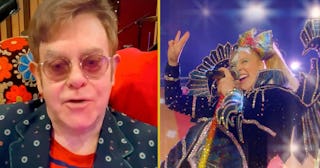 iHeartMedia and P&G
'You're a shining example to young people the world over,' Elton John said of JoJo Siwa
iHeartMedia celebrated the second annual 'Can't Cancel Pride' virtual benefit last night, and it was star-studded and action-packed. There were inspiring words and performances from Dolly Parton, Demi Lovato, Lil Nas X, Jennifer Hudson, Ricky Martin, Pete Buttigieg, P!NK, and many others. The show was capped off by a special appearance from none other than Elton John, who introduced JoJo Siwa and talked about what her coming out means for the community.
The show was a giant celebration of love, and the night's events was hosted by Elvis Duran and Bebe Rexha. Elton welcomed Siwa to the LGBTQ+ community towards the end of the show (at about the hour mark), introducing her before she performed a special rendition of her song "Boomerang." He told the world how proud he was about her coming out and all she, and others her age, will be able to do for the world.
"JoJo," John started. "I want to congratulate you for sharing yourself with the world by coming out this year. I'm overjoyed that you've joined our beautiful community. At 17, you're able to do something that took people of my generation decades to do. Not only are you living your truth, you're a shining example to young people the world over."
Other notable messages from the night included Demi Lovato, who told viewers at home, "As a queer person, it is very important to me to stand with Black Lives Matter, Black-Trans Lives Matter, Stop AAPI Hate, and other groups that speak truth to power."
Later in the show, Leslie Odom Jr. performed a haunting rendition of "Without You" during a special candlelight performance to remember the five-year anniversary of the Pulse Nightclub massacre.
Lil Nas X was also at the show, telling fans, "We're going to keep opening doors for each other" — and that's what people like Siwa will be able to do for generations. It's something Elton John has done for millions.
Siwa has been a big fan of Elton's and posted an adorable picture of the two on Instagram earlier this year.
"Not only did I get to see the legendary Elton John perform, but the Rocket Man himself invited me into his dressing room after the show to hang out with him!" Siwa wrote on Instagram. "I talked to Elton and his husband for literally over 30 minutes, it was incredible! I have never been so inspired by talking to someone! Thank you for being a inspiration for me and millions of others. Elton, you are incredible."
"You're a shining example to young people the world over and their families that love is love," Elton said of Siwa before she performed. "People are people, and that is that."
This article was originally published on