Emilia Clarke Endured Two Life-Threatening Brain Aneurysms During 'Game Of Thrones'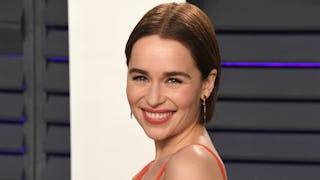 Image via Jon Kopaloff/Getty
The actress shares how close she came to death — twice — when she was in the early days of filming her hit show
In a new essay for The New Yorker, Emilia Clarke — best known for her portrayal of Daenerys Targaryen on HBO's Game of Thrones — reveals she suffered from two life-threatening brain aneurysms during the early days of the show.
The first one occurred right after she wrapped filming on season one, while she was training at the gym. Clarke says she suffered a headache that brought her to her knees and caused severe vomiting. The next thing she knew, she was being rushed via ambulance to the hospital.
"The diagnosis was quick and ominous: a subarachnoid hemorrhage (SAH), a life-threatening type of stroke, caused by bleeding into the space surrounding the brain," she writes. "I'd had an aneurysm, an arterial rupture."
She had to undergo immediate brain surgery in order to save her life and repair the damage the bleeding had caused in her brain. When she woke up, she found herself suffering from aphasia — an impairment of language caused by the trauma to her brain. "My job—my entire dream of what my life would be—centered on language, around communication. Without that, I was lost," Clarke writes.
During her darkest moments in the hospital, she felt as though she were dying. Her mom tried to convince her she was alright, and that things would be okay — as moms do. "But I knew I was faltering. In my worst moments, I wanted to pull the plug. I asked the medical staff to let me die."
Clarke knew she'd eventually need a second brain surgery, because during the first one doctors found a second aneurysm. After season three of Game of Thrones wrapped, she endured another operation. Unfortunately, doctors were unable to contain the bleed — meaning she'd need a third brain surgery. She was warned that her chances of survival were precarious. They even warned her mother she could wind up with severe brain damage.
Throughout all of her physical trials, she endured everything silently. She never shared it with the press, despite having to do promotional tours for the show in massive amounts of pain — to the point where she said she was "sipping morphine between interviews."
Why? Because, as Clarke alludes to in her essay, that's what's expected of women with her kind of career. It's also an intensely personal matter that should be disclosed only if and when she wishes to disclose it. If news of her life-threatening condition leaked, she feared it would distract too much from her work on the show.
Just a few weeks after her second surgery, she was scheduled to appear at Comic-Con in San Diego with her fellow castmates. "There were several thousand people in the audience, and, right before we went on to answer questions, I was hit by a horrific headache," she says. "Back came that sickeningly familiar sense of fear. I thought, 'This is it. My time is up; I've cheated death twice and now he's coming to claim me.'"
Her publicist told her despite her pain, MTV was counting on her to give an interview. "I figured, if I'm going to go, it might as well be on live television."
Fans all over the internet shared their concern and admiration for Clarke after her news became public.
Now, however, she says she's completely recovered. "I survived MTV and so much more. In the years since my second surgery I have healed beyond my most unreasonable hopes," Clarke writes. Her experience led her to start a charity called SameYou, which aims to "provide treatment for people recovering from brain injuries and stroke."
https://www.instagram.com/p/BvRr-IKlQCm/
As she nears the end of her legendary reign as the Mother of Dragons on Game of Thrones (which premieres its final season on April 14), she says she felt the timing was right to share this huge, terrifying, inspiring piece of her life.
"There is something gratifying, and beyond lucky, about coming to the end of Thrones," she writes. "I'm so happy to be here to see the end of this story and the beginning of whatever comes next."
This article was originally published on