Emily Blunt On Life With A Newborn: 'I Didn't Shower For A Week'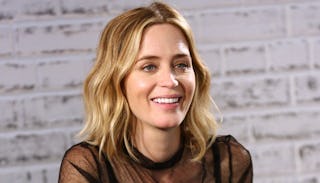 Image via Tim P. Whitby/Getty Images
Actress Emily Blunt gets real about postpartum life, proving she's just like the rest of us
She's one of us, mamas. It is so refreshing to hear women, especially celebrities, be like, here's the real deal with this whole motherhood thing. From dwindling (read: non-existent) showers to 'exploding' boobs, Emily Blunt nails postpartum life in a recent interview with InStyle magazine. And we can totally relate.
The 33-year old actress and mother of two-year-old Hazel and five-month-old Violet sat down for lunch with the writer and immediately dropped the first truth: "I'm still breastfeeding, so I am hungry all the time."
Can we get a cupcake right now just thinking about it? Seriously, when you're nursing you are absolutely ravenous and life is pretty much an all you can eat buffet minus the pregnancy heart burn. Which is probably why those pregnancy pounds don't seem to fall off so easily in the first year for new moms – we are so friggin' starving.
Not only does the actress admit to being hungry while being a milk machine, she admits that showers aren't happening as often as they used to.
"After we got home from the hospital, I didn't shower for a week," confessed the actress. Welcome to the club sister, welcome. Actually, if you take a shower within that first week at home with a newborn we'd say you're doing pretty good. In those first few months of new motherhood I resorted to mostly sponge-baths, hitting all of the stinkiest body parts with a washcloth and some soap. My other shower-like techniques included using gallons of dry shampoo and tearing out magazine perfume inserts and rubbing them on my armpits. I didn't even care what scent it was – as long as it wasn't my own.
Blunt also touched on the elusive date night. She and husband John Krasinski (from The Office) attempted to go out to dinner soon after Violet was born to just try to feel some sense of normalcy. I mean, we all pretty much know how that first date night goes especially if your boobs are automatic refill milk tanks.
"I could last only about an hour because my boobs were exploding," Blunt said. "When the milk first comes in, it's like a tsunami." Holy crap, yes. Who knew boobs could go from empty to super soakers in sixty minutes or less?
As for the jump from one kid to two, Blunt just let's it all out. "It's a zoo! When there was just one kid, somebody would get to sit down. Now nobody gets a break." It's so true. With two kids, nobody gets a break, ever. It's the kid party that never stops.
Blunt says her husband is "the most unbelievable daddy," and takes care of Hazel so she can focus most of her time and energy on new baby Violet. Involved dads are a huge help to new moms, and without them these transitions might be harder.
As for Blunt's mama-metamorphosis, life with a newborn seems to be going extremely normal, which for the rest of us, sounds pretty great.
This article was originally published on