Emma Stone Shares A Note Her 9-Year-Old Self Wrote About Anxiety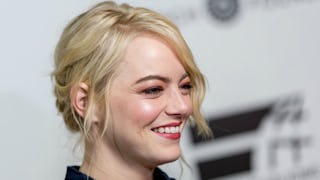 Image via Roy Rochlin/Getty Images
Celebrities like Emma Stone and Stephen Colbert are talking about their anxiety, helping to beat the stigma
It's hard to grasp that while nearly 20 percent of Americans battle some kind of mental illness, there's still a stigma surrounding these very real health problems that prevents many from talking about them. What's even scarier is thinking about how that stigma could affect kids, because they can be affected by mental illness, too.
Luckily, we live in a time where mental illness is being talked about in the open, and people are no longer shunned or shamed for speaking out about their battles and seeking help. And when celebrities like Emma Stone speak up, it only means the conversation about mental illness is going even more mainstream.
Stone appeared on the Late Late Show this week, where she took a break from exchanging jokes with host Stephen Colbert to discuss something a little more serious: her childhood anxiety. Stone shares that she was put into therapy at age seven to overcome her anxiety, which she referred to as her "little green monster."
Colbert held up a drawing of a little girl towering over that "little green monster," under the powerful words, "I'm bigger than my anxiety!"
"I was nine. I was in therapy at that time. I drew this in therapy. This is me, I guess," Stone says, pointing to the little girl in the drawing, and then to the little monster next to her. "And then this is anxiety."
"It's a little green monster that looks a little bit like, someone pointed out backstage, a uterus with some ovaries. But I didn't mean for it to be hormonally-related in any way, like I said, I was nine."
Stone explains, "I was a very, very anxious child and I had a lot of panic attacks. I benefited in a big way from therapy."
She went on to share how getting into acting and improv helped her gain more confidence and overcome her anxiety, but that it will never completely go away.
"I still have anxiety to this day," she says, while "knock on wood" she no longer suffers from panic attacks.
Stone's openness even prompted Colbert to share his own story: As a younger comedian, doing improv shows, he would suffer from backstage anxiety attacks too.
"I would curl up on the couch and tell everyone, 'Don't talk to me,'" he admits.
The fact that kids can suffer from things like anxiety is real. And the fact that they can benefit from things like therapy to teach them how to cope with their struggles is important to realize. Thanks to Emma Stone and Stephen Colbert for helping to shine more light on those facts, and for furthering the conversation about mental illness — especially for kids.
This article was originally published on