Emmanuel Acho To Replace Chris Harrison As Host Of 'After The Final Rose'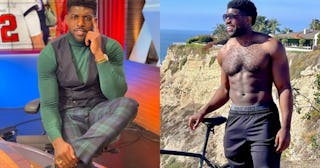 Emmanuel Acho Twitter
The former NFL player will host the primetime 'Bachelor' special on ABC
Following a season of gross racist rhetoric from both contestants and now former host Chris Harrison, the alphabet network announced former NFL player Emmanuel Acho will be hosting The Bachelor: After the Final Rose one-hour special. And Twitter says 'hell yeah'.
Mr. Adorably Handsome..err…Acho, is the host of the YouTube series Uncomfortable Conversations with a Black Man. He revealed Saturday he will host the one-hour special for the 25th season — the first to feature a Black male lead.
"I've accepted the Rose & am honored to be hosting the @bachelorabc After the Final Rose this year," Acho tweeted. "It's been a pivotal season & this episode will be one of the most storied shows in its history. Empathy is needed and change is coming. See y'all then!"
Quick reminder: host Chris Harrison apologized after coming to the very vocal defense of Rachael Kirkconnell, a contestant who was photographed at an antebellum plantation-themed Kappa Alpha fraternity formal in 2018. The Sun reports that the national fraternity has been criticized as "racist" due to its embrace of Confederate General Robert E. Lee as its "spiritual leader".
Host Harrison indicated on February 13, 2021 that he was "stepping aside" from the show "for a period of time" after making tone-deaf apologies for Rachel, who's now a frontrunner on the current season despite coming under fire for her tone-deaf and racist social media pics.
It is uncertain how long Harrison will be stepping back from hosting duties, but the incredibly well-suited Acho (see what we did there?) is ready to take to the franchise with his signature charm.
Acho is stepping into the 25th season of ABC's insanely popular reality dating franchise and the first in which ABC cast a Black man, Matt James, as the show's star (after years of calls to do so). Acho took to Twitter to thank fans for welcoming him into Bachelor Nation "with open arms."
During the show, Acho "will sit down with Bachelor Matt James to discuss his season, his final decision and where he is now, as well as cover the current events about the franchise," ABC announced in a press release.
Acho recently gave a talk about race and inclusion at Augustana University.
Acho, for all of his charm and good looks, has proven he has the chops to have incredibly nuanced conversations about race. Check out his conversation with NASCAR driver Kyle Larson, and the driver's use of the 'n' word.
The sports star and bestselling author will also talk with the season's final three women: Kirkconnell, Michelle Young, and Bri Springs. The special episode will air on Monday, March 15, directly after the season finale of The Bachelor.