6-Year-Old Boy Says Goodbye To His Elderly Best Friend
by Sarah Hosseini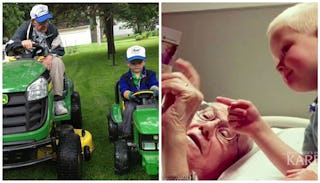 Emmett and Erling's unlikely friendship captured hearts everywhere
You never forget a best friend, even when they're gone. Little Emmett Rychner is only six years old, but the memories he made with his World War II vet buddy will last a lifetime.
Erling Kindem, with his heart failing, held onto his young best friend's hand and told him, "You're a good boy," KARE 11 in St. Paul, Minnesota reported. He continued with some advice too, "Listen to your mother and dad because they're going to give you the best advice they can." In the video you can see the two hugged for a long time. Emmett's mom, Anika Rychner, said it felt like a goodbye.
"He wasn't afraid to hold his hand and he wasn't afraid to hug him," Anika said. "Erling was his friend and he was with him."
A few days later Erling passed away at the nursing home where he'd been in hospice care. He and Emmett had been friends since Emmett was three-years old. According to the Facebook page called the Greastest Generations Foundation, Charlie Kindem, Erling's son remembered Emmett knocking on his dad's door, "And he would say, 'Can Erling come out and play?'" The two had matching mowers, a love for croquet games, and bicycle rides.
Their unlikely friendship budded as neighbors three summers ago and captured the hearts of people around the nation as it went viral. Even when Emmett's family moved away to the country for their growing family and Erling moved to a senior community the two continued to visit each other.
"They kind of treated each other like equals even though there was an age difference," Steve Kindem, Erling's son told KARE 11.
The age difference here being over 80 years. Truly remarkable when you think about it. Erling served as a radio operator and gunner on a B-24 bomber during WWII. His family is planning a service for Erling in the spring, with full military honors. In the meantime, Erling's pal is simply trying to wrap his head around his emotions and the loss of his friend. His mom told KARE 11 that Emmett has been very cuddly lately and understands that his friend is gone.
"'We're just going to have to wait a really long time and then we'll see him again in heaven,'" Emmett said to his mom. She continued, "He believes that and we believe that."
Emmett's mom hopes her son remembers Erling and their friendship, but also the bigger life lesson of loyalty, kindness, and love.
"I hope that one thing that Emmett will take from it is that you stick with the people you love until the very end," Anika said. "And I'm really proud of Emmett for doing that."
[free_ebook]