Here's The Emmys Engagement Everyone's Talking About
by Valerie Williams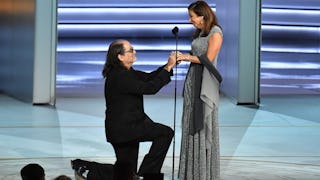 Image via Jeff Kravitz/FilmMagic
A director used his award-winning moment to propose to his girlfriend — and it's everything
Last night's Emmy awards brought all the stunning "gold" carpet looks and a ton of exciting moments, but none could really top the big Emmys engagement everyone is talking about this morning.
When director Glenn Weiss won the award for outstanding directing for a variety special, he had more on his mind than just accepting his trophy. He used his minutes in the spotlight to surprise girlfriend (now fiancée!) Jan Svendsen with the onstage proposal heard round the world.
"You wonder why I don't like to call you my girlfriend — because I wanna call you my wife." OH MY HEART.
Weiss started off his proposal by noting how much his late mother loved Svendsen. "I'm really grateful to be here, but it's bittersweet. The person most proud at this moment would be my mom, and she passed away just two weeks ago," he said. "Mom always believed in finding the sunshine in things, and she adored my girlfriend Jan. Jan, you are the sunshine in my life. And mom was right, don't ever let go of your sunshine."
And that's when he said he wanted Svendsen to be his wife and the entire place erupted in applause and tears, OK, maybe the tears were just me, but look at them.
"Jan, I want to put this ring, that my mom wore, on your finger in front of all of these people and in front of my mom and your parents watching from above. Will you marry me?" he said.
Heart. Melted.
Full disclosure: I'm not what you'd call a fan of public proposals, but this absolutely slayed me because look how clearly in love they are, I can't even take it. Their joy is totally infectious.
Of course, Twitter also pretty much lost it over the incredibly sweet moment.
But perhaps no reaction was more pure than Leslie Jones' shocked and elated expression.
It's official — love is still alive and we found it onstage at the Emmys. Congrats to the happy couple.