The Emotional Drama Of 'This Is Us' In Tweets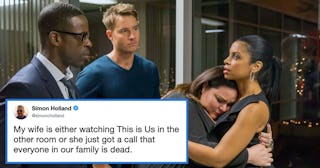 Simon Holland/Twitter and NBC
It's almost time! The night This Is Us fans have been waiting for all summer (and most of spring, since the Pearsons left us hanging on April 2, but we're not bitter). Season 4 of This Is Us, the show that can make a stone statue cry crocodile tears, premieres September 24.
A shit-ton of new characters are coming. (Surprise! Here are a bunch more relatives and very important people you didn't know existed in the Pearsons' lives, but we promise you'll grow to love them all, will cry when they die, because some will, and throw your remote at the TV when season 4 undoubtedly leaves you with another gut-wrenching cliff-hanger. Wheeeee!)
A few days left to finally, hopefully, start getting answers to all of our questions. Did Rebecca end up with Nicky?! Who did Kevin have a kid with?! Who is Jennifer Morrison's character?! Or Omar Epps?! And hello, M. Night Shyamalan?! WHUT.
So. Many. Questions.
So obviously, Twitter is abuzz in anticipation. Especially since the Season 4 trailer emphatically tells us that "if we think we know what's coming…" we actually don't. And they're not really telling us anything else, except this (because they know they can't cram the entire exhausting emotional rollercoaster they've got planned in one solitary hour).
WHAT DOES THAT ALL OF THIS MEAN YOU'RE KILLING US JACK. (We love you anyway though.)
I mean, we have reason to be worked up because we know how this show gives us anxiety (*has flashbacks to the Season 3 finale…)
And we know the blessed relief we feel when we know the characters we love are okay.
So naturally we've all watched the trailer 87 times. And we're already crying.
So our weekend plans are set…
And our families better get on board because Season 4 is going to look a hell of a lot like the others…
This show gives us grand aspirations about our own future and how we all (obviously) become part of this family somehow.
Because if they're looking for more drama, I know someone who can bring it (spoiler: it's me).
And, bonus, if you're looking for a silver lining after you ugly cry and go to work the next day with swollen eyes…
Thankfully it's almost time because honestly, this obsession isn't healthy. We see Jack, Rebecca, Kate, Randall, and Kevin everywhere we look.
Season 4 can't come soon enough. We know you already put in for a sick day on the 25th for your emotional recovery. (We did too.)
This article was originally published on