We Can Plant The Seeds Of Empathy In Our Children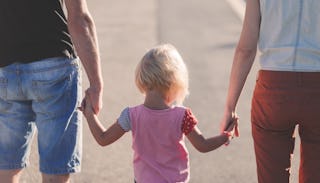 FreeStocks.org / PEXELS
'Tis the season of gratitude, thankfulness, grace, and compassion to others. The privileged among us are called upon and hopefully inspired to share food, money, and time with those who are not as fortunate as we are. Thankfully, many of us answer the call and take action in unique and personal ways that reflect what we value and our desires to leave a meaningful mark on the world.
For me, an admittedly privileged white woman who lives in a predominantly upper-middle class neighborhood in Washington, DC — a city with one of the highest costs of living in our nation — the call sounded different this year.
Perhaps it was a result of my sheer shock at the outcome of our election — another astonishing realization that I live in a rather padded bubble — but my call for action was to teach our youngest generation the power of care, kindness, compassion, empathy, and service.
The call spoke not only to me opening my wallet and sharing some of the contents within, though I certainly will do that. It wasn't about spending a few hours at a food bank serving those who are hungry, though that is most definitely on my agenda. It was heavier than pulling together a gift package for children who won't otherwise have anything under their tree. Don't get me wrong, all of these one-time efforts are important, special, meaningful, and notable. We should all do them often, and generously, if we are lucky enough to have the capability to do so.
This year, I came to the realization that I can certainly make a difference on an individual level. I can make one kid smile when they find a new toy under the tree. I can feed one stomach by donating cans of food to my local food pantry. I can fund one night of shelter for someone who is homeless. But by inspiring today's children to show goodness to those around them, perhaps I can build a generation of do-gooders whose impact will be far broader, far more outreaching, and far more impactful than what I could possibly do on my own. After all, there's power in numbers.
On a whim, I reached out to my 4-year-old's teachers to see if they'd be interested in collaborating on a kid-friendly conversation about haves and have-nots. I googled 4-year-old friendly books that teach social justice (thanks to the many authors out there!), and I found the recommended books at my local library (we so often forget the magic that is the public library). I called a handful of non-profit organizations that serve those in need and identified a low-cost project in which a classroom of 4-year-olds can engage without much drama. Voila!
With partners from the community, we developed a plan to ignite empathy in the generation who will ultimately carry us through our old age. We simply planted a seed with this project. It will now be up to us to fertilize that seed over a lifetime.
Truth be told, coordinating a service project for my 4-year-old's class is most definitely a sign of my own privilege. I have a job that allows me the flexibility to be an active participant in my child's education. I have the funds to support a group activity. I have a good local library. I am completely aware that my ability to engage in service and teach the value of service to my children is a privilege. In fact, that is preciously why it is so very important.
The time has come to use our privilege for good, not evil.
So, to the moms, dads, grandparents, teachers, babysitters — to anyone who has the superpower to impact today's children — I challenge you to think outside the common box of giving this season. Certainly open your wallet wide and give to causes that are important to you. Share your time and compassion with those who don't have a warm home and loving family. Raise awareness of issues through participating in a local 5K. Serve food to someone who is hungry. Donate a coat to a child who is cold. But don't stop there.
Engage, inspire, and empower your children, our children, to show kindness, care, compassion, and empathy to those who look like them and those who do not. By doing so, you are not only bettering lives today and throughout this holiday season, but you are also contributing to a more benevolent, more thoughtful, and more humane future.
As adults, we are in a position of power to teach children to be good to others. It is our obligation to use that power for a positive purpose.
Here are a few ways to engage young children in service to others. And don't forget the conversation, reflection, and making meaning of whatever experience you choose.
– Decorate placements for a local food bank or homeless shelter.
– Coordinate a canned food drive at a school or other community event.
– Host a lemonade stand and donate the profits to charity.
– Visit a nursing home and "adopt" a grandparent.
– Send a care package to a soldier.
– Draw "get well" cards for children in the hospital.
– Rake leaves for an elderly neighbor.
Don't just be the change you want to see in the world. Lead, teach, and inspire it.
This article was originally published on