Actually, Your Employer CAN Require A COVID-19 Vaxx
by Karen Johnson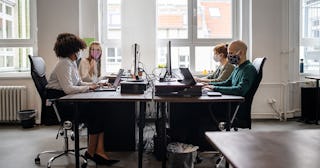 Luis Alvarez/Getty
A year ago, we were all fighting about businesses nationwide being forced to close their doors while we frantically tried to get this pandemic under control. One side saw the need for states to shut down, while others protested in the streets about needing a haircut.
And as the country started opening back up, bit by bit, mask-holes continued to rear their ugly heads in every corner of America. Having to wear a mask to buy some boxed wine on Costco apparently infringed upon their "rights." Expecting their 10-year-old to wear a face covering at school to protect themselves, other students, and their teachers? Somehow that meant we were living in a "dictatorship."
Today, as the vaccine rollouts continue across the country with all adults and now kids over 12 being eligible to receive them, the new fight? Vaccine mandates at work.
There are a shit-ton of adults who are super pissed that, after enduring the worst international crisis most of us have ever seen in our lifetimes, their employers are like "Hey, let's not do that again. Y'all need to get the shot."
And these anti-Covid-vaxxers are fighting back. Their boss can't mandate that they get vaccinated, right? It's a personal choice! They can't take that right away from me! Well, Steve, turns out they can. In a lot of places, at least.
According to NPR, in many cases, employers can require workers to get the Covid vaccine before returning to work. (And, as a side note, vaccine mandates per employer aren't a new thing either. Schools and businesses have been requiring vaccines for decades.)
Here's the thing. There is no federal law that tells employers they have to enforce a vaccine mandate, but there is also no federal law saying they can't. Like many rules in the U.S., this one's up to private businesses, state, and local laws.
Reports NPR: "Under recent guidance from the U.S. Equal Employment Opportunity Commission (EEOC), employers have the legal right to make such a requirement."
What, exactly, does that "guidance" say?
In response to the question, "May an employer require all employees physically entering the workplace to be vaccinated for COVID-19?", the U.S. Equal Employment Opportunity Commission says the following: "The federal EEO laws do not prevent an employer from requiring all employees physically entering the workplace to be vaccinated for COVID-19, subject to the reasonable accommodation provisions of Title VII and the ADA and other EEO considerations."
For example, the EEOC goes on to explain, "Title VII and the ADA require an employer to provide reasonable accommodations for employees who, because of a disability or a sincerely held religious belief, practice, or observance, do not get vaccinated for COVID-19."
And, the New York Times adds, "Vaccine mandates must abide by the Americans With Disabilities Act and the Civil Rights Act of 1964, the E.E.O.C. said. That means companies must accommodate employees with health concerns like allergies and keep that information confidential."
But that also means that unless you meet and can prove some sort of special circumstance, your boss can also say, "Don't want to get the shot? Cool. Get another job." If that's how they want to run their business.
And honestly, after this nightmarish year, can you blame them for doing anything and everything in their power to prevent Covid-19 from running rampant through their company? Vaccine mandates certainly make sense to me, and if any employer of anyone in my household mandated it, we'd all be like, "Yeah, okay. DONE. Here's my card."
Some companies have already implemented vaccine mandates as the world continues to open back up. Delta Airlines, for example, has mandated that all new hires in the U.S. will have to prove they are vaccinated before they can begin employment with the company.
United Airlines CEO Scott Kirby says he may mandate vaccines for his employees as well and encourages other companies to do the same.
Another company, the retailer Saks, is bringing employees back to the office in the fall and is requiring that everyone be vaccinated prior to returning.
It's also a relief to hear that many long-term care facilities are requiring employees to be vaccinated, as they work with the most vulnerable among us. AARP reports that Aegis Living, a long-term care provider operating 33 assisted living, memory care and respite care communities in the western U.S., is one of many long-term care providers nationwide enforcing mask mandates. Aegis Living founder and CEO, Dwayne J. Clark, says that most of his employees willingly got their shot, but that at the July 1 deadline, he's expecting to terminate 100 workers who refuse.
"We know we're going to lose some really good people," Clark tells AARP. But the welfare of his residents is too important, so he and many other long-term care providers are willing to take the hit.
NPR reports, however, that despite Aegis having to terminate employment of 100 workers, that three other companies—Juniper Communities, Atria Senior Living, and Silverado—who operate long-term care facilities nationwide, implemented similar mandates. At those facilities, staff were vaccinated at rates of 95% or more.
Also, other incentives like offering paid time off to get vaccinated (a perk offered to Olive Garden, Target, and McDonalds employees), cash bonuses (as offered by Amazon, Kroger, and Walmart), and the option to go mask-free at work if you're vaccinated (a perk at JP Morgan, Goldman Sachs, and Walmart, for example), are other ways companies are getting more employees on board with the shot, even if they are not technically requiring it.
It's happening, folks, in all types of job fields. The vaccine is extremely effective, and it keeps you and those around you safe. So don't be surprised if more and more companies follow suit and require their employers to show their white card before they can come into work. Including yours.
This article was originally published on