What I Miss Most Now That My Daughter Has Moved Out
by Jennifer Wolfe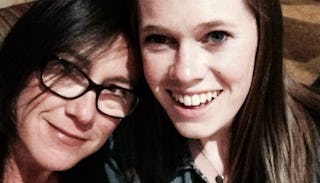 Jennifer Wolfe
Something happened last year. Amid the chaos of SAT testing, college acceptance letters, pole vaulting and ski racing, something huge changed in our house.
You turned 19 and moved out.
At first, it was like peeling layers of an onion. I was so distracted by your brother's broken leg, our flooded kitchen, and the start of the school year that it just seemed like you were off at camp or spending way too much time at track practice. The house buzzed with construction workers, and your brother kept me occupied with his full-leg cast and wheelchair antics.
But a few weeks into the school year, it started to get quiet—too quiet. I began to realize the quietness wasn't going away; you were. I realized that 18 years of watching over you, teaching you, and knowing the details of your everyday life had come to a sudden, unexpected conclusion. You don't live here anymore.
While I only have a partly empty nest, it hit me hard. Freshman year was easier to dismiss; it was a novelty. You were trying it out, and somehow I believed that things would get back to normal—someday.
Now it's year two. I tried to adjust to being your mom from a distance, but I'm afraid I haven't mastered it quite yet. This long-distance relationship isn't exactly what I imagined all those years I was mothering you, years I spent teaching you how to make French toast or load the dishwasher or fold your clothes so they don't wrinkle. The new normal of you not living here is punctuated by holidays coming and going—brief visits that allow me to feel your presence in my life again. When November arrived, I began sprucing up your room, knowing that you were coming and you'd want to crawl into your big black iron bed and pull the soft white duvet up for a few nights. I left pink lilies on your bedside table.
All month I told you to get ready to be spoiled, to send me special requests and remind me if you still take your coffee with cream and if you still like to go for long walks right after breakfast.
When your face rounded the corner at the airport, you had that familiar smile that told me it's OK to hug you close but to remember we were in public; to not make too big of a scene, but that you were happy to see me, too. Your blue eyes met mine, and I had to touch your face, just to make sure you were real.
Thank you for indulging me this visit. I hope that one day you'll understand the exquisite thrills and agonies of being a mom; then all my emotional antics will make sense. I hope that one day when you see your baby living their life full of happiness and joy, you'll understand why I have such trouble letting you go. When you see your child blossom into an adult, when you watch all the lessons you worked so hard to teach unfold in front of you, I hope you'll understand why I tear up just thinking about you leaving again.
It's these ordinary moments, watching you hang the lights on the Christmas tree, or sip a latte at an outdoor cafe, when I realize how extraordinary you really have become. It's these ordinary moments that I crave, that I miss, that I want to press into my memory like tiny handprints in plaster.
So I have 12 more hours with you today, 12 more chances to soak you in. I'll help you pack and make sure you're well fed. We'll chatter away about summer plans, and I'll encourage you to work hard during finals. There is still so much I want to do to try to recapture that feeling of you always being part of my life, before you're back on the plane, because you're 19, and this is our new normal. You don't live here anymore.
This article was originally published on