The 'Enchanted' Sequel Is Finally Happening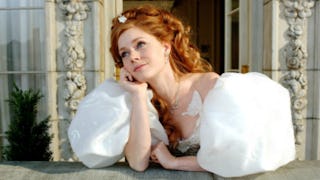 Image via Disney
Disenchanted catches up on Giselle's life 10 years later
We learned so much from Enchanted: that getting engaged to someone you just met isn't always the best idea, that life isn't always like a fairy tale, and that everyone walking through Central Park is a professional dancer who magically knows the lyrics to the song you just made up right then.
The animated/live action movie found a perfect balance between romance and poking fun at all the happily ever after Disney princess plot lines we were fed as children. Which is why we're thrilled that the long awaited sequel is finally on its way.
Disenchanted will catch up with Giselle 10 years after she left the cartoon meadows of Andalasia for the real life grit of NYC. Director Adam Shankman shared some details about the upcoming movie at a recent Television Critics Association panel. "We are handing in a script in a couple weeks that I'm super happy with. Then gotta get the music written," he said. "It's about Giselle 10 years later going, 'What is happily ever after?'"
Trying to figure out what the hell true love and happiness even mean? This is why Giselle wins as most relatable princess, even with her 80s-wedding sense of style. Sorry Elsa.
If you still find yourself humming I've Been Dreaming while picking up the daily toy tornado, then you're in luck. Shankman says Disenchanted will have even more catchy tunes than the first movie. "There's a lot more songs this time than there were in the original, at least in the planning phase right now." Shankman also directed the magic that is Hairspray, so fingers crossed we get at least one more major dance number in this reboot.
Amy Adams is set to reprise her role as Giselle. While Patrick Dempsy and James Marsden haven't been confirmed yet, it's hard to imagine part two of this story without Dempsy's Robert, and Marsden is like 87% animated prince already, so hopefully they'll both be back. And surely no one would be foolish enough to make a musical sequel without asking Idina Menzel to be a part of it.
Disenchanted hasn't started filming yet, but with Shankman's encouraging words about the script and IMDB listing a 2018 release date, hopefully it won't belong before we can once again take the kids to a movie we'll all love.
This article was originally published on