Nothing Says 'Forever' Like An Engagement Ring Tattoo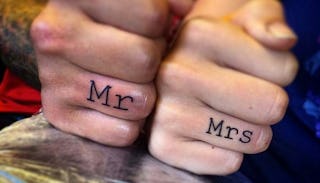 Image via Instagram
Celebrate your new marriage with rings that stay on your finger no matter what.
Diamonds may be forever, but they're also insanely expensive, require regular upkeep to maintain their sparkly splendor and can be easily removed (or even lost.) Does that sound like the symbol of a "forever" commitment? Enter the engagement ring tattoo, a fun and unique way to pledge your eternal devotion without breaking the bank — or accidentally dropping thousands of dollars worth of diamonds down the shower drain.
With engagement rings costing an arm and a leg, (an average of $5,855 according to a 2014 survey from The Knot) more and more couples are foregoing this pricey tradition in favor of tattoos that cement their devotion to one another. Of all the costs involved in a typical wedding, rings can be one of the most expensive. Engagement ring and wedding band tattoos start to make a lot of sense when considering where else that money could go in the planning of a wedding or honeymoon. Or even a down-payment on a home.
Then, there's the fact that we all know someone who's lost their engagement ring or had the diamond fall out without their knowledge. And how many of us have removed wedding rings to do a messy household project only to never see them again? And then there are those who simply don't like jewelry and decide early in their marriage that no matter how much they love their spouse, they can't abide a ring on their hand all the time. A tattoo solves literally all of these problems.
Not to mention, there are tons of personal and creative designs for couples to choose from. The options are limitless.
And we all know, many women tend to shed their engagement and wedding rings after becoming a parent, at least temporarily. It starts in pregnancy with fingers too swollen to accommodate wedding bling and after the baby comes, they find themselves coming into contact with tons of poop. Giving the rings a rest is pretty common at this stage in a marriage. I know I stopped wearing mine for a while after seeing how often I washed my hands while tending to my infants. It meant I was using tons of lotion to combat dry skin. Is there anything more annoying than lotion getting underneath your wedding rings, making them dull and slimy? It was a no-brainer for me to ditch them for a couple of years.
There is, of course, one important caveat to consider. Removing a ring tattoo in the event of a divorce obviously wouldn't be as simple as slipping it off your finger. But when couples are getting married, they're hopefully not already planning their future divorce and removing a tattoo really isn't the hardest thing to do. If a couple wants ring tattoos, this shouldn't be a factor stopping them.
So if you're not afraid of a true "forever" commitment, consider a pre-wedding date at a tattoo parlor to choose your own unique expression of love.
This article was originally published on