Enjoy Mother's Day This Year; Doctors Orders!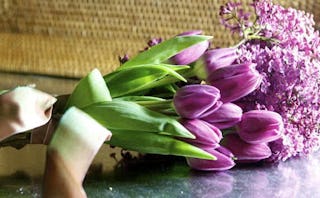 A lot of people are uncomfortable being the center of attention and I'm going to guess that a large percentage of those people are women. When offered praise, thanks, gifts, we demur. "No, you didn't have to do that, it isn't necessary, no…" Right?
This Mother's Day, I am giving you an order: Fight the urge. Let your kids make breakfast and stay in bed while they do. Take time for yourself if it is offered. Mention a gift you actually want. Read the cards you get and believe them.
Do all this because you deserve it. And also, it's good parenting!
How is it good parenting to sit in comfort on the couch ignoring the chores and the dishes and reading a book with a yummy drink that your child has brought you?
First of all, your children are learning to honor you. Motherhood should NOT be a thankless job. Of course our kids won't remember to thank us for everything we do each day. They won't even notice a lot of it, they're not wired for that. This is a chance for them to think of you first. Learning to make you the center of their thoughts and energy is a great lesson for them. Making you feel good will teach them the value of reaching out, of searching for ways to make someone we love feel great. If your two year old asks on Sunday "What do you want for Mother's Day Mommy?" Say 100 hugs! Or a foot rub, or for them to clean up their toys. Say something you really want. Let them honor you.
Second of all, you are teaching your kids to expect to be treated well by the people who love them. "Children learn what they live." So let your children learn that being a parent doesn't mean ignoring your own self worth. Show your daughter that you are worthy of thanks and she will expect to be thanked as an adult. Show your daughter that you deny praise and she will think she should also.
Lastly, Mother's Day can recharge you for the tough times ahead. When you are feeling overwhelmed in weeks to come, or unappreciated, your memories (and gifts – did I mention gifts?) will remind you that your family values you. When you are rushing from one place to the next, fielding texts from home about dinner and dropping off the forgotten shoes at practice and picking up a last minute supply for the history project, you will remember the honor your family showed you. It will help you be a better parent.
You might be reading this thinking, "Mother's Day at her house doesn't look anything like Mother's Day at MY house!" I know you may be hosting brunch for your mom and mother-in-law, or still running kids to soccer and helping with a science project. But if there is even one person in your house who tries for one minute to make this day different and special, LET THEM. And if not, be that person for yourself. You deserve it.
This article was originally published on