Rent-A-Car Employee's Act Of Kindness For Mom Of Twins Goes Viral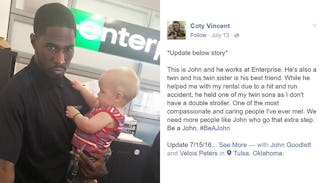 Image via Facebook
Enterprise followed up with a surprise for the mom of 11-month-old twins
An Enterprise employee's act of kindness for a mother of twin boys is going viral and spreading some much-needed joy on the internet. Coty Vincent of Tusla, Oklahoma was at her local Enterprise after a hit-and-run accident prompted the need for a rental car. While there, employee turned internet hero John Goodlett offered to hold one of her sons while they worked through her paperwork.
The mom of 11-month-old twins Holt and Levi had to carry her adorable babies since she didn't have a double stroller, Tulsa World reported. John also happens to be a twin and explained how his sister is his best friend. Vincent was blown away by John's kindness. A hit-and-run collision plus rental car paperwork all with two baby boys in tow sounds like a stressful day. John's help was very much appreciated and the mom took to Facebook to share the story.
Vincent described John as "one of the most compassionate and caring people I've ever met." Adding that "We need more people like John who go that extra step … #BeAJohn." People who work in the service industry know how much kindness is needed for their customers having a bad day, but often their work isn't celebrated. Not the case for John. Since Vincent's post went viral news of his good work has made it up the corporate ladder.
"Let's hope John gets the recognition he deserves," Vincent wrote online. Enterprise managers have promised a surprise for the employee and in the meantime have purchased a double stroller for Vincent. "We were so moved by Coty's Facebook post that we wanted to return the favor and do something special for her," the Enterprise team wrote in a statement. "Of course, we are also recognizing John for going the extra mile."
Vincent said she shared the story on Facebook for a few reasons – as an update for friends and family who were worried about her after the hit-and-run and to share some positivity. "During such a time of heartbreak and tragedy, for this light to shine through like it has, it's been phenomenal," she said.
"It's such a small act that's touched so many people's lives. What John did for me, and I'm sure what he's done for many others, has just made a better day." The Tulsa mom hopes the story inspires more people to be caring and considerate. "I think this world would be a much better place with small acts of kindness that go so far."
This article was originally published on