Your Kids (And You) Are Going To Love 'Ada Twist, Scientist' On Netflix
by Sa'iyda Shabazz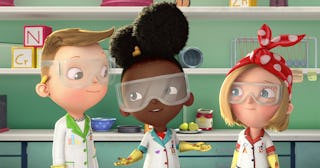 Netflix
I've read 'Ada Twist, Scientist' to my son a lot in the last few years. It quickly became one of his favorite bedtime stories — just this summer, he requested I bring it on vacation to read to him. Never one to disappoint, I will happily read it to him whenever he asks. Because of his immense love for the book, when he found out that Netflix was making a show, he was beyond excited. If I'm being honest, so was I. Not only do we love this character, but I'm always looking for shows for kids featuring diverse leads. And as someone who knows the books very well, the show does an excellent job at capturing the heart of the world of The Questioneers.
The captain of the 'Ada Twist' ship is veteran producer Chris Nee, who created a little show called 'Doc McStuffins,' and more recently 'Ridley Jones,' which is also on Netflix. The show is also executive produced by Michelle Obama, which is definitely not too shabby! While Chris Nee is the creator of the show, Kerri Grant is the showrunner, which means she was the one actually steering the ship. Scary Mommy was able to talk to Chris Nee via Zoom, which was incredibly exciting.
If you're a big fan of the book series and worry that the show will only feature Ada and the Twist family, fear not! Rosie Revere and Iggy Peck are not only featured, but you get to see a little bit of their lives too. In one episode, the kids go to Rosie's house and bake banana bread for Great Aunt Rose, who features heavily in 'Rosie Revere, Engineer.' Not only do we see Rosie and Aunt Rose, we get to see Rosie's mom, who is a pilot. In the show, Iggy Peck's parents are divorced, but seem to be good co-parents, as his dad comes over to his mom's house to help in the garden. There's no word on Rosie's dad, but it's nice to see that they're showing different families.
"It took a while to get the characters right – to make sure we're being true in how we're representing them. We worked hard on the family dynamics, for example, and how fearless and curious Ada is about the world. We've been really thoughtful about what we are putting out there. I think Ada has the power to expand the landscape," Kerri Grant said in a series of questions provided by Netflix. (She was ill and unable to do an interview via Zoom.)
It's clear that representation is at the forefront of the show. They could have easily made the show about Rosie or Iggy, but they chose to focus the show through Ada's eyes. While showcasing women in STEM and STEAM is incredibly important to all the parties involved, it is extra important that they show young kids of color, especially Black girls, that this is not a space that they are excluded from. Ada Twist never once questions that she deserves to be at the same table as her white friends.
"Ada Twist has the power to change the landscape in children's media. It's so cool to see a little Black girl in the lead role and as a scientist," Grant said.
Another cool addition to the show is that between stories, you get to meet a real life scientist. These scientists aren't the stereotypical white lab coat type either. They do all different kinds of science, and not only that but they are racially diverse and mostly women. Again, it goes back to making sure that kids understand they can do it too. 'Ada Twist, Scientist' does an amazing job at showing kids how accessible science is. It's not just people with beakers in a lab. In addition to seeing Ada and her friends doing science in their everyday lives, we see the real life scientists in a kitchen or a greenhouse, and not just in a lab.
Nee explained that the idea of featuring different scientists came after she had been on a panel about women in STEM. She knew that breaking the stereotype of what a scientist is was her first job, but also showing girls (and boys) that science is more than just a lab was important too.
"It felt really important to continue to show different images of who is doing this work, and what this work is," she said. Additionally, she explained that some of the truly remarkable women we get to see featured were thanks to the Obamas being producers for the show. They were able to work their connections to get some truly outstanding scientists involved.
And while Ada Twist and her friends are pint sized scientists who spend their time crafting on-the-fly experiments, they're still just kids. There is something so relatable there, like Ada's disappointment when the electricity goes out and they can't have movie night, or when Iggy believes that the birds who drank all the bird feeder water are in "cahoots" with ants. You can see it in Rosie's obsession with unicorns too (which according to Nee was intentional to show that even scientists are into sci-fi.) These characters are beloved, not just because we know their stories, but because we know kids just like them. We may be raising them.
During the first episode, my son turned to me and said, "I can't believe we finally get to hear their voices now!" These characters are so well loved, and the team understood that. They kept Ada Twist and her friends true to the kids we know and love from the books, but they also rose to the challenge of expanding the characters from a 30 page book to a 30 minute TV show episode.
All of the characters are incredibly recognizable because of the books, and the team did an amazing job staying true to the imagery created by Andrea Beaty.The books' illustrations are so stylized and specific, that you wouldn't think they'd translate to 3D animation at all. But Chris Nee, Kerri Grant and their team really made it happen with 'Ada Twist, Scientist.' Ada still wears her signature dress and aforementioned poofy ponytails. But they also did a great job with the other characters. One thing I love about the books is how retro their parents dress, and they kept that and made it a little more modern. Mrs. Twist still has her signature glasses, and Rosie has her red hair bandana.
The first thing I remember noticing about Ada Twist is her hair. It really looks like Black girl hair! Not just in how it's styled, which is accurate, but you can see the texture, even on the screen.
"Very early on, I got to fly to D.C. and sit down with Mrs. Obama and we had looked at early designs that were coming through. One of the immediate and big things that she said was that the hair looked painful to her. That the way it was pulled was too tight," Chris Nee explained. "That's something I'm not gonna see in that design in the same way that she's gonna see." She added that this is why it's important to have representation at all levels of the show.
We are really focused on making sure we have representation both on and off camera with this
series: different races and abilities and disabilities in our crew, the writers team, composing team, the scientists at the end of each episode and, of course, in the characters in the show. Representation is something we actively talk and think about," Kerri Grant said.
'Ada Twist, Scientist' goes above and beyond understanding the assignment. It's fresh, exciting, and engaging. But it also feels very familiar and homey. My eight-year-old is absolutely obsessed, and if you knew him, you'd know there's no higher recommendation. And I can't stop singing the "Brainstorm" song. If you have young kids, this is their next must watch show.