Amy Schumer Shares Toilet Photo From The Moment She Found Out She Was Pregnant
by Leah Groth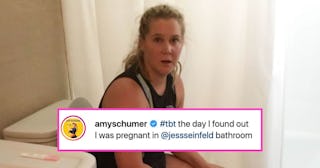 Amy Schumer/Instagram
Amy Schumer reminds us that almost every woman's journey to motherhood started on the crapper
Nearly every mom remembers the moment she found out that she was pregnant with complete clarity. We all have a unique story about how it went down, the reaction when our eyes hit that positive pregnancy test, and the first thing that crossed our minds when we learned that our life as we knew it, had suddenly changed. Our individual scenarios might be totally different, but the majority of us share something in common: our pregnancy "positive" moment involved a toilet and urine.
RELATED: 8 Pregnancy Tests That Give You Accurate, No-Bullsh*t Results And Don't Cost A Fortune
Because Amy Schumer encompasses everything that is beautiful, awesome, ugly, brutal, and overall just super real and raw about motherhood, she reminded us of this with her latest social media share.
"#tbt the day I found out I was pregnant in @jessseinfeld bathroom," she captioned an Instagram photo of herself sitting on a toilet, pants down, with a shocked look upon her face. Next to her on the bathroom sink lays a familiar pink and white stick.
Adding to the hilarity of it, Schumer actually shared the "Throwback Thursday" post on Friday. This could have been an added humorous punch, or she literally could be thinking it is Friday because, new motherhood, DUH.
While most celebrities avoid sharing photos of themselves sitting on toilets, this isn't the first time our beloved Amy has brought us inside the loo with her. One of the very first photos she shared after giving birth to son Gene in May was taken in one of those horrifyingly sterile hospital bathrooms.
"Milf alert 1 o'clock," she captioned the snap of herself perched on the potty. Not only was the photo super funny, it was incredibly relatable. If you have birthed a child, those first few days in the bathroom — including that post-childbirth poop — are something you will never forget.
And who can forget her iconic hospital mesh panties moment? The comedienne seriously had us peeing our pants in laughter when she shared a photo of herself taking a stroll down a country road rocking those postpartum panties like they were from the Victoria's Secret "Pink" collection.
"5 weeks. Hospital underwear for life!" she captioned the image.
It should come as zero shock that she couldn't resist sharing a few breast-pumping photos, because if you can't laugh at milking yourself like a cow, then you clearly have zero sense of humor.
She even graciously invited us to share in the celebrations of her first period postpartum.
"First period in a year," she wrote alongside the expressive image of herself and husband Chris Fischer, adding pretty much every single red emoji available.
Oh, Amy Schumer, you are seriously our imaginary mom BFF. Please never stop keeping it real.
This article was originally published on