Missing 'Ted Lasso'? Here Are 10 Other Binge-Worthy Apple TV Series You'll Love
by Shaye Wyllie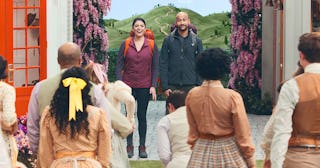 AppleTV+
If you're a big Ted Lasso fan, like myself, then you're probably wondering if you still need your Apple TV Plus membership, now that season 2 is over. And the answer is yes! Don't cancel your membership just yet! Apple TV Plus has a ton of other awesome shows to watch.
Here's everything currently worth watching on Apple TV Plus.
Acapulco
Starring Eugenio Derbez, "Acapulco" is a new, bilingual comedy series that tells the story of twenty-something Máximo Gallardo (Enrique Arrizon), whose dream comes true when he gets the job of a lifetime as a cabana boy at the hottest resort in Acapulco. He soon realizes the job is far more complicated than he ever imagined and in order to succeed, he must learn to navigate a demanding clientele, a mercurial mentor, and a complicated home life, without losing his way to shortcuts or temptations.
I'm currently watching Acapulco weekly, and I seriously wish it was bingeable! It's so good! I was a little worried after watching the first episode, but now I'm hooked and completely invested in this story!
New episodes premiere every Friday on Apple TV+.
Foundation
Recently renewed for a second season, "Foundation" is the highly anticipated epic saga that marks the first-ever on-screen adaptation of Isaac Asimov's iconic, award-winning novel series of the same name from visionary showrunner and executive producer David S. Goyer. When revolutionary Dr. Hari Seldon predicts the impending fall of the Empire, he and a band of loyal followers venture to the far reaches of the galaxy to establish The Foundation in an attempt to rebuild and preserve the future of civilization.
Enraged by Hari's claims, the ruling Cleons – a long line of emperor clones – fear their grasp on the galaxy may be weakening as they're forced to reckon with the potential reality of losing their legacy forever. Starring Emmy Award nominees Jared Harris and Lee Pace, alongside rising stars Lou Llobell and Leah Harvey, this monumental journey chronicles the stories of four crucial individuals transcending space and time as they overcome deadly crises, shifting loyalties and complicated relationships that will ultimately determine the fate of humanity. The Apple Original drama also stars Laura Birn, Terrence Mann, Cassian Bilton and Alfred Enoch.
I haven't started this one just yet, but I hear it's amazing and it's already on my list of shows to watch!
Now streaming. New episodes premiere every Friday on Apple TV+.
Swagger
Inspired by Durant's experiences, "Swagger" explores the world of youth basketball, and the players, their families and coaches who walk the fine line between dreams and ambition, and opportunism and corruption. Off the court, the show reveals what it's like to grow up in America.
From creator and showrunner Reggie Rock Bythewood, NBA superstar Kevin Durant and Imagine's Brian Grazer, the new series is led by an ensemble cast of stars including O'Shea Jackson, Jr., Isaiah Hill, Academy Award-nominee Quvenzhané Wallis, Shinelle Azoroh, Tessa Ferrer, Caleel Harris, James Bingham, Solomon Irama, Ozie Nzeribe and Tristan Mack Wilds.
The first three episodes of "Swagger" make their global debut on Apple TV+ on Friday, October 29.
Schmigadoon
"Schmigadoon!," a new musical comedy series executive produced by Lorne Michaels, stars Cecily Strong and Keegan-Michael Key as a couple on a backpacking trip designed to reinvigorate their relationship when they discover a magical town in which everyone is living in a studio musical from the 1940s. They then discover that they can't leave until they find "true love." The first season of the six-episode series also stars Alan Cumming, Kristin Chenoweth, Aaron Tveit, Dove Cameron, Ariana DeBose, Fred Armisen, Jaime Camil, Jane Krakowski and Ann Harada.
I watched this one weekly when it first dropped and as crazy as it seems, I loved how fun and light it was, while still highlighting a ton of issues women deal with. If you haven't seen this one yet and love musicals, it's a must watch.
The complete first season of "Schmigadoon!" is now streaming.
See
"See" takes place in the distant future, after a deadly virus has decimated humankind. And in this future where humankind has lost the ability to see and is forced to interact in new ways, a set of twins with sight is born, challenging the status quo.
I still haven't seen this series yet, no pun intended, but I have heard such great things about See that it's currently on my watch list! And since there are already two seasons, you can totally binge this one! Did I mention Jason Momoa?
The complete first two seasons of "See" is now streaming.
Central Park
Recently renewed for a third season, Apple's NAACP Image and Emmy Award-nominated, original animated musical comedy stars Josh Gad, Leslie Odom Jr., Kristen Bell, Kathryn Hahn, Tituss Burgess, Daveed Diggs and Stanley Tucci. "Central Park" is created, written and executive produced by Emmy Award winner Loren Bouchard ("Bob's Burgers"), alongside Grammy Award winner Josh Gad ("Frozen") and Emmy Award winner Nora Smith ("Bob's Burgers.")
In season two of "Central Park," the Tillerman family continues to navigate living in and caring for the world's most famous park. Molly experiences the trials and tribulations of adolescence, Cole is challenged by a truly embarrassing moment at school, Paige continues to chase down the Mayor's corruption story, and Owen juggles managing the park, his staff, and his family all with a smile on his face. Meanwhile, Bitsy inches ever closer to her sinister goal of claiming Central Park as her own; with Helen by her side, eternally wondering whether she's made it into Bitsy's will. Every step of the way, we are guided along by our friendly, fumbling, fiddler narrator, Birdie.
I watched Central Park this Summer, after checking out the first episode on my flight back to NYC from Cali, and loved it! It's weird, but hilarious!
The complete second half of season two is now streaming on Apple TV+.
Truth Be Told
From acclaimed writer, showrunner, and executive producer Nichelle Tramble Spellman, "Truth Be Told" is an NAACP Image Award-winning series that provides a unique glimpse into America's obsession with true crime podcasts. Starring and executive produced by Academy Award winner Octavia Spencer, the new season of the anthology drama also stars Academy Award nominee Kate Hudson in her first lead role in a television series.
In season two, investigative reporter turned true crime podcaster Poppy Parnell (Spencer) dives into a new case that deeply involves her childhood friend, media mogul Micah Keith (Hudson). As developments unfold, their lifelong friendship is put to the ultimate test. In addition to Hudson, joining for season two are series regulars Christopher Backus, Alona Tal, David Lyons, Andre Royo, Merle Dandridge, and Mychala Faith Lee. Returning cast includes Mekhi Phifer, Michael Beach, Ron Cephas Jones, Tracie Thoms, Haneefah Wood, Tami Roman, and Katherine LaNasa.
Of course I haven't started this series yet either, but it's on my list! I've heard Truth Be Told is one of Apple TV Plus' overlooked series so I can't wait to watch it. Plus I love Octavia Spencer!
Season 2 now streaming. New episodes premiere every Friday on Apple TV+.
Puppy Place
Each of the eight live-action episodes tells the story of a puppy who finds his or her way to the Peterson family. Charles (Riley Looc) and Lizzie (Brooklynn MacKinzie), whose different approaches complement, inspire, and occasionally confound one another, do whatever it takes to find a happy, loving home for each and every dog. Discovering what makes each puppy special offers a unique perspective that helps the pair overcome their own individual hurdles.
I'm excited to check this one out with my daughter later this month, now that it's streaming.
Now streaming on Apple TV+.
The Shrink Next Door
Inspired by true events, "The Shrink Next Door" details the bizarre relationship between psychiatrist to the stars Dr. Isaac "Ike" Herschkopf (played by Paul Rudd) and his longtime patient Martin "Marty" Markowitz (played by Will Ferrell). Over the course of their relationship, the all-too-charming Ike slowly inserts himself into Marty's life, even moving into Marty's Hamptons home and persuading Marty to name him president of the family business. The series explores how a seemingly normal doctor-patient dynamic morphs into an exploitative relationship filled with manipulation, power grabs, and dysfunction at its finest. The series also stars Kathryn Hahn as 'Phyllis,' Marty's younger sister, and Casey Wilson as 'Bonnie' the wife of Dr. Herschkopf.
I saw the trailer for this and I am so excited to see The Shrink Next Door when it finally releases.
Global premiere Friday, November 12, 2021 on Apple TV+.
Harriet The Spy
Marking the first animated adaptation of the iconic children's novel chronicling the coming-of-age adventures of the irrepressible Harriet M. Welsch, "Harriet The Spy" stars acclaimed actor Beanie Feldstein as Harriet, a fiercely independent and adventurous 11-year-old girl, alongside Emmy Award winner Jane Lynch as Ole Golly, Harriet's larger-than-life, no-nonsense nanny.
Set in 1960s New York when the original book was published, "Harriet the Spy" follows the outspoken and perpetually curious 11-year-old Harriet M. Welsch. More than anything, Harriet wants to be a writer, and in order to be a good writer, she'll need to know everything. And to know everything means she'll need to spy… on everyone! Joining Feldstein and Lynch, the series features Lacey Chabert as Marion Hawthorne, the ringleader of a group of popular girls at Harriet's school, and additional voice cast Kimberly Brooks, Crispin Freeman, Grey Griffin, Bumper Robinson, and Charlie Schlatter.
I love Harriet The Spy, plus it's another series I can watch with my daughter, so I can't wait!
The first half of season one (five episodes) premieres Friday, November 19, 2021 on Apple TV+.
As you can see, there's a lot to watch on Apple TV Plus. This isn't even a complete list of what's available! But there's absolutely no reason to cancel your Apple TV Plus membership right now. There's enough content to watch until the next season of Ted Lasso finally releases, and I'm excited to see what they release next.
This article was originally published on