Watch The First Trailer For 'Are You There God? It's Me Margaret'
Rachel McAdams will star as Margaret's mother as well as Kathy Bates in the role of Margaret's grandmother.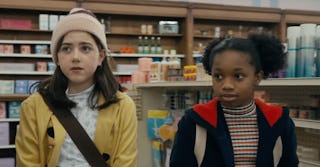 First bra, first period, first kiss — among the many milestones of female adolescence, Judy Blume's classic, and often-banned, novel, Are You There God? It's Me Margaret, has served as a touchstone for generations of girls traversing the terrifying and exhilarating gulf between being a kid and becoming an adult.
For the first time this year, fans will have the opportunity to see Margaret's story, and its reflection of their own, play out on the big screen, starting on April 28.
And now we have the first look at the trailer, released on Friday by Lionsgate.
Opening with the line, "Hello, girls, we're going to talk about your changing bodies," a perfect introduction for all the material that the book addresses, the trailer closes with the unforgettable refrain, "We must, we must, we must increase our bust."
In between we get to see glimpses of what seems to be a loving and true-to-the-book telling of the classic YA-defining novel that so many millions of kids grew up with. We see Margaret asking for her first bra, buying sanitary pads, and being asked to join a secret club. We also see first glimpses of Rachel McAdams as Margaret's mom, Kathy Bates as her grandmother, and all of Margarets various friends.
And knowing that Judy Bloom was on the set and gave all of it her seal of approval makes the entire thing more exciting.
Bates told PEOPLE that Are You There God, It's Me Margaret is a film that will help all women feel better about their bodies, not just young girls. "The book is obviously about a young girl who is becoming a young woman and she's embracing her womanhood. And I think women throughout history have been taught to feel negatively about their bodies and about the processes that their bodies go through," she said.
Bennie Safdie, who plays Margaret's well-meaning Jewish father married to her Christian mom, told Entertainment Weekly that he was familiar with some of Blume's books but wasn't privy to Are You There, God? It's Me Margaret until he was up for the role.
"I was like, 'This is one of the most incredible books I've ever read,'" he told EW. "Even though it was from a different time, it still felt so present and real."
Safdie also spoke about how grateful he was for the role in the film since he had never been asked to play such a personal and close-to-home role like this before.
"I am a father, I am Jewish, I am a husband," he said. "These are things that I do every day, and I don't ever really get to put that out there. Nobody ever looked at me in that way."
McAdams said it was a dream come true to work with the legendary Judy Blume. "Watching her watch her book come to life and to be a part of that was just so surreal. She's the loveliest lady and I felt very honored to be part of this for that reason. That she waited so, so long to do this until, until she felt really good about giving it over. I just wanted to do right by her and give her the best Barb I could," she said.
The movie has already scored big laughs at CinemaCon, according to Deadline.
While the title character is 12 years old, and the 1970 book was YA incarnate before it became a marketing term, the film also has plenty to offer those of us experiencing adolescence anew via our own children. According to McAdams, who has her own son and daughter, the character of Margaret's mother enjoys a fully-developed role in the movie.
"It was heartbreaking to me that she worked really hard to not burden her child with her own past, yet it's such a part of who she is," McAdams told The Hollywood Reporter in an interview. "But there's no way it wasn't going to come up. It is just a real cacophony of honest, truthful things women and mothers experience on a whole."
Dads, also, will see their experiences reflected. "And for men, too," said McAdams. "Benny Safdie plays the dad in this and is just so warm, and he's struggling with what it is to have a girl who's changing before his very eyes."
Blume, 84, resisted selling the film rights to many of her books for decades, but had a change of heart in 2018 and sold Margaret to writer-director Kelly Freman Craig, whose adolescence-themed The Edge of Seventeen Blume had admired, and hit producer James L. Brooks.
"I think the time has come," Blume tweeted then. In 2021, once preliminary casting for the film had been announced, Blume explained to Entertainment Weekly: "I thought, let's do this while I'm still around to enjoy it."
Craig's enthusiasm for the project echoed the sentiments of readers, for whom the book, first released in 1970 — and given a sanitary pad sans belt update in 1998 — was revelatory.
"It felt like a life raft at a time when you're lost and searching and unsure" said Craig. "This book comes along and tells you you're not alone. Women remember where they were when they read it. I can't think of another book you can say that about."
Margaret's story came as a kind of outpouring for its author as well. "For the first time since I'd started writing, I let go and this story came pouring out," Blume says on her personal website. "I felt as if I'd always known Margaret."
Adding to generations of readers, moviegoers will soon be able to say the same.
Are You There God? It's Me, Margaret is in theaters April 28.
This article was originally published on