Downton Abbey Will Be Listed On Airbnb For An Exclusive One-Night Stay
by Cassandra Stone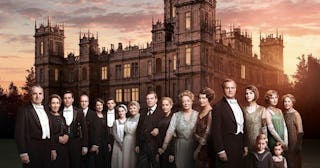 PBS
Bookings begin October 1, so grab your best dinner gown and make haste
Fans of the hit period drama, Downton Abbey, will have the chance to stay in the actual Abbey (real name: Highclere Castle) thanks to an exclusive Airbnb listing. Two people will be able to rent the entire castle for one night only, and bookings are open as of October 1.
Highclere Castle is the 19th-century structure used for both the exterior and interior filming of the hit PBS series where the Crawley family drama unfolds upstairs while their servant staff keeps the drama alive downstairs. After six successful seasons on television, Downton Abbey is now a feature film (out with a major release this week, you're welcome). To celebrate the opening of the movie, two guests can have their very own Downton adventure at the real-life castle in England.
"For the first time, two guests are cordially invited to immerse themselves in life at Highclere Castle and will be treated like royalty during their stay," the Airbnb listing states. "Booking for the stay on November 26th goes live on October 1st at 12PM BST."
While no actual members of the Crawley family will be in attendance during the lucky fans' stay, the itinerary sounds like an absolutely delightful way to spend your time.
The lucky guests will enjoy "exclusive evening drinking cocktails in the Saloon" followed by a proper dinner with the actual Earl and Countess of Carnarvon — the owners and residents of Highclere. Yes, you will be waited on by an actual butler (if his name isn't Carson — what is this all for, really?) and then take coffee in the library before "retiring" to one of the fancy bedrooms with a scenic view (Personally, I would call immediate dibs on the infamous Mr. Pamuk's room, but that's just me).
Before the stay ends, the guests will also enjoy an English breakfast and a private tour of the castle and its "extensive grounds." Plus, according to the Airbnb listing, the lucky fans who get to stay there will also receive a "special gift" from the earl and countess. (!!!)
Since the offer is only good for a one night stay, the competition is sure to be fierce. Because really, even if you haven't watched the show (and if you haven't, please know that Dame Maggie Smith as the Dowager Countess is more than enough reason to binge all six seasons immediately), who wouldn't want to stay here?
Highclere Castle is only available to book for a one night stay taking place on November 26th. Reservation opportunities will go live on October 1. In order to book, you must have a verified Airbnb profile, positive reviews, and be passionate about Downton Abbey (duh).
"It's an absolute privilege and pleasure to call Highclere Castle my home and I am delighted to be able to share it on Airbnb for a truly unique stay," Lady Carnarvon tells LonelyPlanet.com. "Highclere Castle has been in the Carnarvon family since 1679 and has an incredibly rich history. I am passionate about the stories and heritage of Highclere Castle, and I am looking forward to welcoming our future guests."