Here Are The Halloween Movies You Should Watch With The Kids This Year
by Shaye Wyllie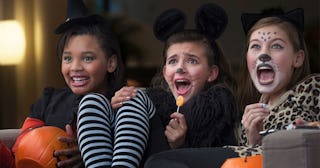 Jose Luis Pelaez Inc/Getty
Halloween is quickly approaching, and of course we've already got our popcorn ready for the spooky movies. But since my family doesn't do horror (yes, that includes myself), every year for Halloween, we binge movies that are a bit easier on the eyes … and our nerves.
Although we don't watch horror movies, we have absolutely no problem with vampires, werewolves, zombies, monsters, witches, haunted mansions, and magic.
But, I'm sorry — I can only watch 'Hocus Pocus,' 'Casper,' 'Halloweentown,' and 'The Nightmare Before Christmas,' so many times!
I'm not sure if you know this but, these aren't the ONLY movies your family can watch! I know, I know, they're all classics, but sometimes you've gotta switch it up on a b*tch. (Sorry, I just watched the new iCarly reboot a few days ago, and that line is still stuck in my head!)
However, here's a comprehensive list of other Halloween movies, that your family can enjoy together.
The Addams Family 2
Hoping to get closer as a family, Gomez, Morticia and the rest of the Addams clan embark on an adventurous road trip in a hideous and humongous camper. While I enjoyed the first film more than the second, I do have to say there's a great message in this sequel about foster families.
Watch in theaters
Hotel Transylvania 4
Van Helsing's mysterious new invention transforms Drac and his pals into humans, and Johnny into a monster. With their new mismatched bodies, Drac and the pack must find a way to switch themselves back before their transformations become permanent. We haven't seen this new film yet, but now that it's out, and my daughter is finally no longer scared of these films, I'm looking forward to watching this one with her.
Watch in theaters
Nightbooks
Scary story fan Alex must tell a spine-tingling tale every night, or stay trapped with his new friend in a wicked witch's magical apartment forever. This is Netflix's newest family Halloween movie, and I can't wait to watch it.
Watch on Netflix
Under Wraps
Three friends try to save their mummified friend, Harold, from greedy criminals by returning him to his resting place before midnight on Halloween. Your kids will love this Disney Channel remake if they love watching Disney Fam Jam or Sydney to the Max.
Watch on Disney Channel
LEGO Star Wars Terrifying Tales
Poe and BB-8 are drawn into Darth Vader's castle after crash landing on Mustafar. A must watch for Star Wars loving families of course.
Watch on Disney Plus
Vampires vs the Bronx
A trio of friends discover a sinister plot to destroy their neighborhood. They decide to band together to save their town from vampires. This one is definitely for older kids, as it's higher on the creepy scale, but definitely a fun watch.
Watch on Netflix
The Water Man
Desperate to save his sick mother, an 11-year-old ventures into the remote Wild Horse forest to search for a mythical figure rumored to have the power to cheat death. While this one isn't Halloween related, I do think it's perfect for the holiday.
Watch on Netflix
Daphne & Velma
Daphne and Velma, two mystery-solving teens, investigate what is causing some of the brightest students at their high school to become "zombie-fied." And who doesn't love a mystery? See if your family can solve the case before the movie is over!
Watch on HBO Max
A Babysitter's Guide to Monster Hunting
Recruited by a secret society of babysitters, a high schooler battles the Boogeyman and his monsters when they nab the boy she's watching on Halloween. Of course you should probably only watch this one if your kids aren't already afraid of the Boogeyman.
Watch on Netflix
The Boy Who Cried Werewolf
After falling on hard economic times, the Sands family find out their long lost relative, Dragomir Ducovic, has willed them his mansion in Wolfsberg, Romania! Naturally, they hop on a plane to check out their new home, Wolfsberg Manor, an ancient gothic castle lorded over by the mysterious Madame Varcolac. I didn't think we'd enjoy this one as much as we did, but it was fun watching this Nickelodeon film with my daughter.
Watch on Netflix
Liar Liar Vampire
When an introverted 17-year-old switches schools, the most popular girl mistakes him for a vampire. His supernatural persona helps him rule the school, but as word spreads, the truth becomes harder to hide. This is a lighthearted Nickelodeon film that reminds kids why they should never lie — even when it feels like a great idea and seems as though it will make them more popular.
Watch on Netflix
Muppets Haunted Mansion
When Gonzo is challenged to spend the night at a haunted mansion, he accepts – accompanied by Pepe the King Prawn — and encounters the kind of colorful characters only a Muppet movie can bring. The Muppets' first-ever Halloween special, this film has a lot of fun celebrity appearances: John Stamos, Chrissy Metz, Taraji P. Henson, and Danny Trejo, just to name a few.
Watch on Disney Plus
Zombies
The students of Seabrook High School are thrown when students from Zombietown transfer to their school, and both groups must work together to prove they can embrace their differences to celebrate their community. Listen, if you haven't already seen this a few thousand times, now's your chance to fill your children's hearts with glee and watch this one with them. Trust me, it's not as bad as you think it is, if you love Disney films. There's also a Zombies 2 and Zombies 3!
Watch on Disney Plus
Edward Scissorhands
A scientist builds an animated human being — the gentle Edward (Johnny Depp). The scientist dies before he can finish assembling Edward, though, leaving the young man with a freakish appearance accentuated by the scissor blades he has instead of hands. Loving suburban saleswoman Peg discovers Edward and takes him home, where he falls for Peg's teen daughter. However, despite his kindness and artistic talent, Edward's hands make him an outcast.
Watch on Hulu
Corpse Bride
Victor (Johnny Depp) and Victoria's (Emily Watson) families have arranged their marriage. Though they like each other, Victor is nervous about the ceremony. While he's in a forest practicing his lines for the wedding, a tree branch becomes a hand that drags him to the land of the dead. It belongs to Emily, who was murdered after eloping with her love and wants to marry Victor. Victor must get back aboveground before Victoria marries the villainous Barkis Bittern. If your kids like weird, without the scares, this movie is perfect for them.
Watch on HBO Max
Scoob
With hundreds of cases solved and adventures shared, Scooby and the gang face their biggest, most challenging mystery ever — a plot to unleash the ghost dog Cerberus upon the world. As they race to stop this global dog-pocalypse, the gang discovers that Scooby has a secret legacy and an epic destiny greater than anyone could have imagined. And this one takes place during Halloween, so it's perfect for another watch this year.
Watch on HBO Max
Twitches
Reunited on their 21st birthday, twin sisters (Tia Mowry, Tamera Mowry) use their magic powers to save their kingdom from the forces of darkness. I mean, princesses aren't always living fairytale lives, right?
Psst … there's also a sequel!
Watch on Disney Plus
Now that you've got a list of movies to binge this Halloween, it's time to start planning what Halloween pajamas your family should wear on the couch! Yup, that's a thing now, and you're gonna love it! You're welcome.
This article was originally published on