Gabrielle Union Stopped Giving a F*ck. And Her World Opened Up
by Donna Freydkin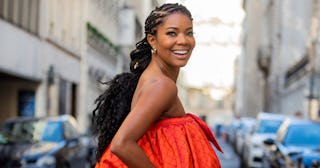 Christian Vierig/Getty
Gabrielle Union has a simple mantra that guides everything she does, and every decision she makes: "I lead with my truth and I make sure that my intention matches what the hell I am doing," she says.
"I don't give a fuck because giving all the fucks has not gotten me anywhere. My world has opened up. I'm almost 50. And now I'm getting more opportunities in Hollywood than I did at 25, sitting on a global hit. And I chalk that up to coming into every space as my fullest self," she tells me.
It's also why a compliment from her actually means something. "You cut your hair. I love it!" she says over Zoom.
Union has transformed herself into a beast of a businesswoman, much of it handled in conjunction with her husband, retired NBA star Dwyane Wade. In 2022, they're launching Proudly, a line of baby products "centering on the needs of melanated children." The two co-wrote a picture book, Shady Baby, about self-acceptance.
She also recently released the follow-up to her best-selling memoir, You Got Anything Stronger? This one is as candid, as take no prisoners, as you might expect. She talks about her husband fathering a child while they were briefly broken up. About her infertility, the result of a condition that went undiagnosed for years. About endemic and systemic racism in Hollywood. About how having her daughter via surrogacy felt like "acknowledging my body's failure." In other words, truth bombs aplenty.
Now, Union has a line that's absolutely her own: Bitsy's, a family foods company that makes accessible healthy drinks and snacks. The brand launched a new product, called Swish, designed specifically to get kids to drink more water; it's a flavored hydration mix loaded with vitamin C and zinc and is sweetened with organic stevia and monk fruit with one added gram of sugar per serving. It's part of Union's bigger picture move to make fancy kids' foods available at regular-people prices.
She's a co-founder of the brand, and like many good things, it came about organically. Her daughter, Kaavia James, 2, devoured the stuff, and Union posted about it on Instagram. Her mom friends asked her about it, and where they could find it, and she reached out to the brand to figure out why the products weren't more accessible.
"I wanted to know why they're not in more places. I wanted to see if there's something I can do to help. How can I be of service to get these products into more homes. So I met with the other two women and we were all in alignment," says Union. "They come from the nonprofit world. Bitsy's isn't about gouging — you want to make food that tastes good and has flavor profiles we recognize and you want to make it affordable and accessible. They asked if I wanted to become one of the founders."
The three partners relaunched the brand and the mission is simple: To give people living in food deserts, those areas without easy access to fresh produce and premium products, choices. "It's about creating healthier food options at lower that lower prices. You do have to narrow your profit margin, but if you're in this to exploit marginalized communities and folks that live in food deserts, you are probably not in this for the right reason anyway," she says.
Kaavia is, of course, one of the taste testers. She's gotten more finicky as she's gotten older, says her mom. Is she a picky eater?
"She wasn't, no. But it changes every day. Every day. This morning it was pancakes and bacon. We had poured her milk. She normally craves milk and she was like 'No milk.' What? Huh? She goes to school now. So her friends have different tastes, their families have different tastes and they all bring their lunch. Her language is changing, her tastes are changing daily," says Union.
Nothing Union does is accidental, or anything other than meticulously thought out. And it's personal to her. "The majority of my extended family lives in food deserts," says Union, who was born and raised in Nebraska. "So this is like the other things I'm trying to do: Making entertainment more accessible, making, making clothing more accessible, a baby company which is coming at the top of the year. And Food. Snacks. It's my little contribution. I try to do my part in what I'm passionate about."
She wasn't always so outspoken, but some of that changed as a result of one of her greatest traumas: When she was raped, at age 19, by a robber while working at Payless.
"Initially it was not a choice. When the local newspaper first wrote about my rape, they included so many details that I was outed. So I didn't have the luxury of telling my story when I wanted to tell I," she says. "So then people were asking, and so I lost that control."
People kept asking about it, and the more famous she got — she broke out as Isis in the timeless cheerleading class drama Bring It On —the more scrutiny she was under. Slowly, slowly, she became more comfortable with sharing not just the glossy publicity photos with the public, but the real person featured in them.
"I realized that for many, many, many years, I was deeply invested in the lie. I wasn't actually interested in being honest, because to be honest, was to reveal too much, was to reveal my vulnerabilities and my weaknesses," she says. "Over the last 30 years, I've gotten more therapy and I've realized that telling the truth not only creates community, but I'm able to save myself because I have personal clarity."
This article was originally published on