All Hail Geri Halliwell-Horner!
Now an author and mom of three, Ginger Spice has outgrown the Union Jack dress. "But the playful nature," she says, "that's still in me."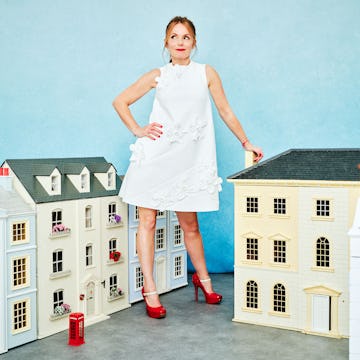 Scary Mommy
Geri Halliwell-Horner loves a rabbit hole. She's always disappearing into a good book — in her early 20s, before she auditioned for the Spice Girls, she took an English literature class and was enthralled by Oscar Wilde and D. H. Lawrence. So a few years ago, when her agent gave feedback on her first fantasy novel for young readers, Rosie Frost and the Falcon Queen, Halliwell-Horner leapt at the suggestion of sneaking some British historical figures into children's entertainment. "It's wrapping the vegetables in chocolate," she says. After all, she adds, wasn't that what was so powerful about the Spice Girls? That underneath the shout-along choruses and outrageous outfits were some solid messages, about self-respect, being nice to your mom, and all the ways friendship will lift you higher than platform boots ever could.
"Who wants to feel preached to?" she says, dressed in a billowy white button-down, her strawberry-blond hair half-up in a loose pony. She's Zooming from her stately dining room in London, where a giant Lego model of the Titanic — built by Monty, her 6-year-old son with husband and Formula One star Christian Horner — is the only pop of color against the all-white walls and furniture. (She also has a 17-year-old, Bluebell Madonna, from a previous relationship, and is stepmom to Olivia, 9, from Horner's first marriage.) "Who wants to be told what to do? Who wants lessons? I'd imagine none of us do."
Down the rabbit hole she went. Rosie Frost, out Oct. 3, is the story of a headstrong orphan who arrives on an island full of mysterious animals to attend a boarding school teeming with ghostly secrets about Britain's past. "It's The Crown, Mean Girls, and Jurassic Park smashed together," Halliwell-Horner says. She dove deep into the Tudors and the execution of Anne Boleyn, who failed to produce a male heir for King Henry VIII but also, in Halliwell-Horner's estimation, was vilified for her smarts and political savvy — the crime of having a bit too much Girl Power. "The more I dug into it, the more I was shocked," she says, palms to her cheeks, Macaulay Culkin-style. "I was like, 'This is outrageous!'"
To flesh out the animal-conservation plot at the heart of the novel, Halliwell-Horner read up on lithium mining — which helps power green technologies but can have serious environmental costs — and implores me to do the same. ("Lithium is going to run out, you do know that, don't you?" she says. "That's for your New York Post readers to dissect.") And just the other night, she confesses, she got sucked into learning about pike fishing while crafting a character's backstory for the Rosie Frost sequel she's already writing. "You really have to research it," she explains. "I would love to make it cool to be a geek, because I've suddenly realized I'm such a geek."
The image Halliwell-Horner, 51, presents to the public these days is more like Regal Spice than Geeky Spice. Her Instagram offers aspirational dispatches from the countryside: walking among the gardens, posing in her study next to the works of Jane Austen and Shakespeare. (She recently said she'd like to study at Oxford.) Multiple videos of herself — riding a horse, climbing aboard a helicopter — are set to music from Succession. ("Oh my God, that's probably the best television that I've watched in years," Halliwell-Horner says.) When she's not dressed in a quiet luxury uniform of white and cream, she finds inspiration in louder historical luxury: She took the stage at the Spice Girls' 2019 reunion tour in a majestic red-and-blue gown from the costume designer behind the musical SIX. "I was wearing Anne Boleyn, I don't know if you noticed that," she says.
When she first stormed the '90s with her firetruck-red hair, Halliwell-Horner's defining quality was her irreverence: patting the bum of King Charles III (then Prince Charles), wearing outfits so skimpy they made it risky to curtsy as deeply as Queen Elizabeth II might have liked. "Everyone expected me to be as tall as RuPaul," Halliwell-Horner says of her larger-than-life persona. "And then suddenly they meet this 5-foot-2 [woman]!" She laughs about it now, but she empowered gen Xers and millennials around the world to never turn the volume down on themselves.
"She was always so fearless and strong in her point of view," says British pop star Rita Ora. "I mean, the flag dress alone was so iconic to British pop culture! That sort of confidence was very important for me and my friends to watch growing up."
Documenting the ways Halliwell-Horner has seemingly moved beyond the brash, forward nature of Ginger Spice as the world first knew her is practically a national pastime among the British press. Halliwell-Horner understands the fascination. "Do we really like change? No," she says. "It's disconcerting if you see Father Christmas and suddenly he's worked out and he's stopped eating so many sausages. You feel like, 'What's going on? I liked you like that. Stop it.'"
She scrunches up her face. "But then, equally, it's just life, isn't it? We all grow and evolve like the seasons. Is it realistic to expect anybody to want to do the same thing, look the same, be the same?"
Halliwell-Horner, who previously wrote the Ugenia Lavender children's book series in the 2000s, spent seven years writing Rosie Frost and another two getting it out into the world. Philomel publisher Jill Santopolo first picked up the manuscript on the train home after meeting with Halliwell-Horner and her agent; she didn't put it down until she was done. "I emailed my boss the next morning and I said, 'I want in on this auction. I want to publish this book,'" Santopolo says. She was particularly moved by how Rosie's musical talents relate to the story. "Geri writes beautifully about music, and music and art play so deeply into the way the characters figure themselves out and find out who they are in the world."
Halliwell-Horner even recorded new solo music to accompany Rosie, accessible through a QR code to those who buy the book. "I keep on asking myself, 'Why are you doing this, Geri?' Why are you spending how many hours a day of your life in a shed writing this in darkness?" she says. The answer, she says, isn't that far off from her ambitions as a pop star. "I want to uplift. I just do. I've been given so much, why wouldn't I?"
"When I was a little girl, I felt quite on the outside of things," Halliwell-Horner says. Her mom is from northeast Spain and worked as a cleaner, while her late Englishman father was a car dealer. They lived in public housing in Watford, just outside of London, until they divorced, when Halliwell-Horner was 9. "I remember not having money," she says. The books of C. S. Lewis transported her to other worlds when her parents couldn't afford vacations; the public romance of Princess Diana and Prince Charles made her believe that fairy tales could come true.
Pieces of Halliwell-Horner's life are woven into Rosie Frost. The abrupt passing of her father in 1993 informed Rosie's own struggles with grief. "I didn't realize it until after I wrote it," she says. "I went, 'Oh my God, you've written what you experienced.'" And just as Rosie is bullied by some of her blueblood classmates for being a scholarship kid, Halliwell-Horner for a time attended a privileged grammar school where even teachers reminded her that she was "lucky" to be there.
At a young age, Halliwell-Horner decided that she was going to be rich and famous and never have to worry about all the things her parents worried about. How, exactly, she would achieve that, she didn't exactly care. After leaving school, she worked as a nightclub dancer, a model, and a television presenter. In her memoir, If Only, published in 1999, she recalls intense periods of insecurity but also unshakeable determination. As a young starlet looking for her big break, she seemed to know how to stand up for herself in auditions or at photo shoots with creepy photographers. Where did she get her sense of boundaries from?
"You know where it came from?" she says, her face lighting up and her voice rising in pitch. "Sylvester Stallone."
She's serious about this. "He stood up for what he believed in, and he put that belief in Rocky." She slips into a monologue about the power of entertainment with the fervor of a politician hyping up a crowd. Rosie Frost, she says, "is my thank-you to America. Because I swear to you, I would not be as successful as I've been if it wasn't for America, if it wasn't for your movies that you gave me. Rocky — you told me you can do it. Charlie's Angels. The A-Team. That 'we can do it' [attitude], that's America." She raises her hands up toward the sky. "It was America that fed me as a child when my mother was out at work. That's my education. They said, 'You're allowed to try. No matter where you're from, you're allowed to give it a go.' And I'm truly grateful. So right now, to my cousins across the Atlantic, I say: Thank you. This is my gift back to you."
In 1994, Halliwell-Horner answered a newspaper ad seeking "streetwise, outgoing, ambitious, and dedicated" young women for a new girl group. You know what happened next. Nine No. 1 UK singles. Three blockbuster albums. One incredibly iconic movie. A billion google searches trying to figure out what the hell a zigazig-ah is.
Each member has wrestled with what it means to be a Spice Girl for the rest of their lives — no one more than Halliwell-Horner, who quit in 1998 and rejoined for their 2007 comeback. But anniversary milestones, motherhood (all five Spice girls have children), and new dialogues around the music industry's treatment of young women have helped them take renewed pride and be kinder to their twentysomething selves given all the pressures they faced in the '90s.
Halliwell-Horner, though, doesn't seem that interested in peeling back all the layers. If they were mistreated by the media back then, well, Anne Boleyn had it "a hundred times worse," she says. And if her bandmates have more empathy for her departure now — in recent interviews, Mel C (aka Sporty Spice) has described it as almost inevitable given the grueling demands on their lives — that's for them to analyze. I start to ask Halliwell-Horner about her onstage apology to the group during their 2019 tour, and she waves her hand in a move-along gesture. "I think we were just being dramatic for the stage drama," she says.
"I'm not trying to be 21. Because that's a betrayal in itself."
Her bandmates see each other when they can — three of them joined Halliwell-Horner for a "Say You'll Be There" dance party at her 50th birthday bash last year — and they stay in touch with a group chat. Activity waxes and wanes like that of any old friends, but Hallilwell-Horner tries to keep the conversation going. "Someone told me if you don't know what the right response is in life, send a meme, and I send Katy Perry memes," she says. "It doesn't even mean anything, it's just saying, 'I acknowledge you, I'll circle back!'" As for the perpetual rumors of another reunion tour or documentary project, Halliwell-Horner says, "At some point, 100% there'll be something. When I do something, I like to keep it 100% focused. It's like being a mother. So right now I'm dealing with one child — that's Rosie. She deserves that attention. It's like getting your kid off to university."
For Halliwell-Horner, the best thing about being a Spice Girl wasn't the celebrity encounters or the awards shows, but the chance to live out all those childhood fantasies. "The first time I ever saw a limousine," she says, "I was just enthralled by the glamor and the glitz of it." When she came to New York, "I'd watched Ghostbusters, so when I saw those big buildings, I felt like I was on a movie set," she says. She even went to the top of the Empire State Building so she could have her Sleepless in Seattle moment: "I was like, 'Oh my God, this is incredible!'"
She adored the spectacle of Las Vegas, the novelty of Texas, a state whose name she pronounces deliciously: Tex-assssssss. "Do you know what I love about America?" she asks. "You don't mind me being positive. You don't mind me being encouraging. You're not overwhelmed. I never feel too much for you. I'm allowed to be my bigger self. It's OK."
There's a moment from the Spice Girls' 2019 tour that is forever burned into my brain. During "Holler" — a bit of Y2K pop perfection from their overlooked third album — a dance-off breaks out in the stadium. Mel B (aka Scary Spice) swings her limbs around in an ecstatic trance. Mel C answers her with her moves so aerobic you'll want to buy a Peloton. It's a powerful statement about how 40-something moms can still throw it back with the best of them, how a group known for their goofy lack of polish can turn out a slick spectacle every once in a while. And then — huh? Halliwell-Horner and Emma Bunton (aka Baby Spice), standing tall at the center of stage, pick up cups and saucers for a little cheers, opting out of the dance number entirely to take a tea break. It's an equally powerful statement, about the defiant, IDGAF glory of saying, "I don't need to do that anymore."
Halliwell-Horner considered her 40s a gift. She's always described herself as a late bloomer in life and love and remembers feeling aimless during her 30s (even though, after leaving the Spice Girls, she notched several solo UK chart-toppers). "Your 30s are not easy because you're not the ingenue anymore. There's so much pressure to achieve: get the partner, get the success," she says. "Suddenly you're in your 40s, you're like, 'OK, I've got a bit of life experience under my belt,' and you're more confident in your choices. I'm still learning, and I'm still going: 'OK, can I be the best version of this age now?' I just think no matter what, when I'm 90, I want to be the best version of that.
"I'm not trying to be 21," continues Halliwell-Horner, who asked that the photo shoot for this story not hide her age. "Because that's a betrayal in itself. I think we can learn from the East. They celebrate the older you get. It's like, wow, you made it — fantastic."
So you probably won't see her at an awards show, emerging from between a giant pair of legs, clutching a stripper pole, ever again. But it's not hard to find the parts of Halliwell-Horner that first endeared her to the world anyway. She joins our Zoom bellowing my name in a softer but still recognizable rasp and immediately starts peppering me with questions about where I live, my career path, and what I ate for breakfast in a way that recalls how she and the girls could absolutely bulldoze TV hosts in the '90s. (Regis and Kathie Lee never stood a chance!) When she thinks she's pulled out a good anecdote, she settles back into her chair, eyebrows raised with a satisfied How about that?! look.
"I'm still in there," she says of Ginger Spice. "The playful nature, that's still in me. It just comes out at different times. I look back with a smirk, with a cheeky smile like, oh, brilliant! You know, brilliant!"
Even pop icons can't always impress their kids, though, and Halliwell-Horner says her children are a bit whatever about her life as a Spice Girl. Bluebell will rock the group's merch every now and then. "She thinks it's sort of vintage cool — vintage '90s are back," Halliwell-Horner says. "Sometimes when her friends come around I go to her like, 'But I'm a cool mom! I'm a cool mom!' It's classic Mean Girls.'"
Monty is a little too young to understand her legacy, but even he can clock that his mom has Big Spice Energy. He recently came home from school with a cast on. "I went to him, 'What's happened?'" she recalls. "And his words were, 'I'm not going to tell you.' I said, 'Why not?' He goes, 'Because you'll be dramatic.' He's 6!"
As for the Halliwell-Horner approach to step-parenting, "It's respectfully just allowing an organic process to happen, for the relationships to build and respect everybody's differences," she says. "It's not perfect — that's really important to say — but I've got a nice husband. I always say he's a Jimmy Stewart or a Tom Hanks. He's not perfect, but he's nice." An epiphany arrives as she thinks about their family structure. "It's funny, we're ingrained with certain stories, aren't we? In fairy tales, there's a stepmom that's always [evil]… She needs a rebrand, doesn't she?"
But that's a book project for another time. Halliwell-Horner has to pack for the Rosie Frost tour, which will see her visit bookstores on both sides of the Atlantic. Horner's F1 responsibilities are about to take him to Singapore, which means they're about to have a rare stretch of time away from each other. Once she's put Monty to bed and picked Bluebell up from a late choir practice, she and Horner will squeeze in a low-key date night at an old pub. It's not particularly glamorous — "I'm not going there for the food, I'll put it that way" — but it has some special significance: It's where they had dinner right before Monty was born. "We normally go to this pub the night before something dramatic is going to happen," she says. As our conversation nears its end, she lifts up her computer to show me around her dining room, the table covered in books and pens and chargers and cables and bowls. For a moment, the queen's castle looks just like a home.
Top image credits: Greta Constantine dress c/o Selfridges & Co., talent's own jewelry and shoes
Photographs by Simon Emmett
Styling by Martha Ward
Production Design by Lee Flude / MHS Artists
Hair: Alex Price
Makeup: Charlotte Reid
Manicure: Lucy Tucker
Production: Zoe Tomlinson
Talent Bookings: Special Projects
Video: Arthur Loveday
Associate Creative Director, Video: Samuel Schultz
Photo Director: Alex Pollack
Editor in Chief: Kate Auletta
SVP Fashion: Tiffany Reid
SVP Creative: Karen Hibbert