The 21 Best Halloween Songs Of All Time
by Kimberly Zapata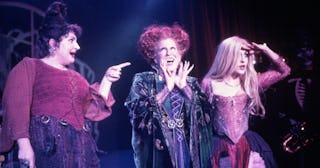 Disney/Kobal/Shutterstock
It's the spook-spookiest time of the year! Halloween is finally here. And while your costume may be hung in your closet with care, it won't be for long. On October 31, millions of Americans will break out their seasonal best. But before you bust out your makeup bag, put on those tights, and don that dope-ass wig, you'll want to pick out your Halloween playlist. After all, music sets the mood. And from witches and werewolves to songs about zombies and things that go bump in the night, our favorite Halloween songs run the gamut from fun and festive to downright spooky.
Of course, not every song on our roundup was made for Halloween. Some of the songs included are from pop and rock icons. They are hit songs, through and through, while others are theme songs. Recognizable riffs from horror movies, present and past. But regardless of how or why, these are the creepiest (and catchiest) Halloween songs of all time.
1. This Is Halloween by Danny Elfman
Fun, festive, and oh-so-contagious, "This Is Halloween" is the unofficial song of the season.
2. Monster Mash by Bobby (Borris) Pickett
Because it's a graveyard smash.
3. I Put a Spell On You by Bette Midler
This conjures up immediate nostalgia for the '90s film 'Hocus Pocus,' and readers tell Scary Mommy Halloween doesn't start until they hear this hit song. "Sultry, sexy, spooky, and fun," one reader said.
4. Thriller by Michael Jackson
With zombie backup dancers and Vincent freakin' Price, "Thriller" is one of our fave Halloween hits.
5. Season of the Witch by Donovan
Donovan never quite explains what he means by "season of the witch" — but this song from the '60s has an eerie feel.
6. Boris the Spider by The Who
Creepy and crawly, "Boris the Spider" isn't clinging to this list by a thread. It is a classic, spooky season song.
7. The 'Ghostbusters' Theme from 'Ghostbusters'
When there's something strange in your neighborhood, who you gonna call? Well, the Ghostbusters, of course. These four friends and phantom hunters are Halloween.
8. Time Warp from 'The Rocky Horror Picture Show'
While I may be biased — 'The Rocky Horror Picture Show' is one of my favorite holiday films — "Time Warp" is absolute perfection. Chef's kiss for this creepy classic.
9. Halloween by the Misfits
Whether you like punk or loathe it, you have to admit "Halloween" by The Misfits is a masterful work of art. I mean, from pumpkins and skeletons to candy apples and razor blades, this hit song really has it all.
10. Spooky Scary Skeletons by Andrew Gold
Spooky, scary skeletons send shivers down your spine. Shrieking skulls will shock your soul, and seal your doom tonight.
11. 'The Addams Family' Theme from 'The Addams Family'
If you saw this song come up and immediately snapped your fingers, you're not alone. The Addams Family theme is both catchy and classic. A must for your Halloween playlist.
12. Zombie by the Cranberries
Beloved by '80s babies and karaoke enthusiasts alike, "Zombie" by The Cranberries is creepy, contagious, and (just plain) cool.
13. Highway to Hell by AC/DC
While "Highway to Hell" isn't technically a Halloween hit, the song is a classic in and of its own right. It's also good, clean(ish), party pumpin' fun.
14. 'Stranger Things' Theme from 'Stranger Things'
Because is there anything more perfect than a spooky theme song?
15. Creep by Radiohead
With a catchy melody and the eerie vocals of Thom York, this song is a spooky season essential, especially for all the creeps and weirdos of the world. (Also worth a listen if you've ever binge-watched Netflix's "You" — Michelle Branch's haunting cover of "Creep", used as the season two theme song.)
16. Overture from 'Phantom of the Opera'
With an instantly recognizable organ intro, "Overture" from Phantom of the Opera is perfect for any (and every) Halloween party.
17. Haunted by Beyonce
A killer (and super creepy) track by Queen Bey.
18. Hell's Bells by AC/DC
Another AC/DC hit — and yes, another AC/DC hit with "hell" in the name — with Satan and death, "Hell's Bells" has all the hallmarks of a Halloween hit.
19. Anthem from 'Us'
Because nothing says creepy quite like a choir of chanting children, amiright?
20. 'The Twilight Zone' Theme from 'The Twilight Zone'
While it may not be the first (or fifteenth) song on your Halloween playlist, the theme from The Twilight Zone is a classic. Creepy, compelling, and instantly recognizable.
21. 'Halloween' Theme from 'Halloween'
Simple yet incredibly memorable, the theme song from Halloween is truly bone-chilling.
And there you have it: the perfect songs to set a festive mood for your spooky soiree. Happy Halloween!
This article was originally published on