There Is A 'Harry Potter' Tiny Home On Airbnb And Can We Move In Indefinitely? 
by Leah Groth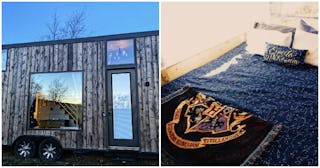 Airbnb
This tiny house offers a large dose of Hogwarts for "Harry Potter" fans
If you have always dreamed about a weekend getaway that involves fully immersing yourself in all things "Harry Potter," then it is time to book your vacay. There is a "carefully curated" and "utterly magical" Airbnb just 90 minutes from New York City where you can earn your diploma from the Hogwarts School of Witchcraft and Wizardry — and it costs less than $200 per night. The 300-square-foot "Magical Tiny House of Wizarding," nestled in the picturesque Hudson Valley region in New York, and it is a next-level space for Harry Potter fans.
"Immerse yourself in wizarding fandom, discover enchanting details, relax in the reading nook, read the Daily Prophet or Quibbler, and live your best upstate life at our Harry Potter Wizarding World decorated Tiny House," reads the listing offered by Airbnb superhost Raven.
As for the decor, expect Hogwarts, Hogwarts, and more Hogwarts. From the moment you sign the "Accio guest book" to scooping up your diploma at the end of your stay, the home's wizarding world theme is consistent and spot on. From magical wands hanging on the walls, to copies of all the J.K. Rowling books in the series and even a copy of the "Daily Prophet." Other accessories include a golden snitch, a quaffle, and a Tri-Wizard cup.
In addition to the Harry Potter wonderland, guests will enjoy 360-degree views of the historic Hudson Valley, as well as neighboring apple orchards and vineyards. But here's the fine print: the little dwelling is completely off the grid. Raven explains that the home "is solar powered and features a propane HVAC system for heating and air-conditioning," as well as a "unique dry-flush toilet" (if you aren't sure what this is, she explains that it is similar to the toilet featured in the Matt Damon movie, The Martian.) But yes, the house does have working WiFi so don't freak out.
The house is comfortably furnished with a King-sized bed complete with a super-comfy Casper memory foam mattress, and insanely comfortable pillows. There is also an extendable dining table with two chairs for sitting, eating, and working, a modern stainless-steel kitchen with mini-fridge, induction stove top for cooking, microwave, electric kettle, and french press. It also comes equipped with Glossier and Kiehl's products.
While the house might be small, it sits on an enormous piece of land — 30 acres to be exact. On the farm you'll find a lavender field and "all sorts of wildlife" — including coyotes, deer, every type of bird you could imagine, and lots of butterflies. There is also outdoor dining and lounging furniture, along with access to a fire pit that you can grill on.
The house is big enough to hold four guests. However, Raven will consider hosting extra guests in tents on a case-by-case basis.
If you are considering taking a trip to a Hogwarts-inspired winter wonderland, you should book now. Just a few dates are left for the rest of 2019! If you miss out on the madness, you can always stay at Harry Potter's childhood home, also available on Airbnb.