You Can Now Stay In Harry Potter's Childhood Home On Airbnb
by Cassandra Stone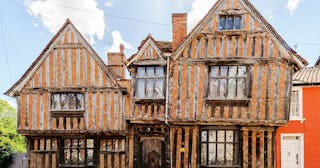 AirBnb
Harry Potter's childhood home is just as charming as you'd expect
Prepare your wallets and your Harry Potter-loving hearts, because you can now officially stay overnight in his childhood home. That's right, the adorable house where Lily, James, and Harry Potter happily resided for a too-brief time is now ready and waiting to be reserved.
Sure, you have to hop on a flight to jolly old England, but who wouldn't want to stay here? Now remember, this isn't the Dursley's miserable house where Harry was forced to sleep in a closet under the stairs. No, this is the official Potter residence that was lovely and idyllic before He Who Must Not Be Named swooped in and tried to commit mass murder.
It's extremely charming. Just look at the outside — it's like something out of a storybook. Oh wait.
The real-life home is known as the De Vere House, and was a former five-star bed and breakfast before appearing on Airbnb. Spending the night costs a mere $142, and for that price you'll get "two four-poster bedrooms both with en suite bathrooms," as well as a "private guest sitting room with log fire and courtyard garden."
Additionally, you'll get enjoy a full English breakfast in the morning and the knowledge that you're participating in a live-action version of an important piece of modern literature. So there's that.
The home is located in Lavenham, which is reputedly Britain's "finest medieval village" (with over 300 protected heritage properties — which appear as Godric's Hollow in the Harry Potter films). According to the listing, De Vere House is located in the center of this pretty village and itself offers a wealth of history as well as comfortable accommodation. There's even a room where the "Harry Potter bookworm" can curl up and read. Sounds pretty amazing, cursed site or not.
It's true that in the books and movies, the house isn't exactly a charming getaway spot: It's the place where Lord Voldemort killed the then-infant Harry's parents in front of him. It's later revisited by teenage Harry and Hermione in Harry Potter and the Deathly Hallows: Part One who stop by the fictional town of Godric's Hollow to pay respects to the memory of Lily and James.
In the filming of Harry Potter, different parts of De Vere House were used to make up the whole of Godric's Hollow. The movie was filmed during the summer, so the special effects team added winter snow and a Christmas tree into our front bay window together with the sound of Christmas carols in the background.
With the holidays approaching, there really isn't a better present to your favorite Harry Potter fan than staying in The Boy Who Lived's home. Where he, you know, lived.