28 Movies And TV Shows To Celebrate Hispanic Heritage Month With Your Family
by Shaye Wyllie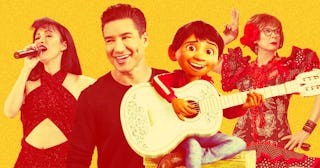 Scary Mommy and Netflix/Peacock/Disney
If you haven't already heard, it's Hispanic Heritage Month! But did you know that Hispanic Heritage Month doesn't get celebrated for the entire month of September or the entire month of October? Hispanic Heritage Month is one of the few monthly holidays that begins and ends in the middle of a month, lasting from September 15 to October 15.
While there are a ton of different ways you can celebrate Hispanic Heritage Month — like supporting Hispanic businesses and learning about Hispanic culture via food, music, and books — one of my favorite ways to celebrate any holiday is by checking out what movies and tv shows are currently streaming so I can grab some popcorn, and binge them all!
I love learning about different cultures through movies and TV shows, even though sometimes I do have to be careful of what I watch since not every movie or show is a great representation of these cultures.
However, movies and TV shows are also an easy way for my daughter to learn about different cultures and languages, which I absolutely love. (She's only nine, but she has no problem watching something in a different language with subtitles and I love that for her! Believe it or not, it'll be a great way for her to make new friends and connect with the world.)
So if you've got some extra time this Hispanic Heritage Month, here are 31 amazing movies and TV shows to watch with the entire family.
Growing Fangs
Mexican-American teenager Val Garcia is half-human, half-vampire, and she has to keep her identity a secret from both worlds; when her human best friend shows up at her monster-infested school, she has to confront her truth, her identity and herself. This short story is apart of Disney's Launchpad collection, and it knocked me out of this world, it was so good. My daughter also loved it!
Watch on Disney Plus
Iconic Mexican-American performer Selena rises to fame as she and her family make sacrifices in order to achieve their lifelong dreams. And I'm not sure if you've heard, but people have been raving about this series since it came out! So if you haven't checked it out yet, now's your chance.
If you'd like to watch the original movie that made Jennifer Lopez a household name, that's streaming on Peacock TV.
Watch on Netflix
Ashley Garcia: Genius in Love
Teenage robotics engineer and rocket scientist Ashley Garcia moves across the country to work for NASA and live with her uncle, a high school football coach. I've seen enough episodes of this one with my daughter to know it's a cute, comedy, the entire family can enjoy.
Watch on Netflix
The Baker and the Beauty
Daniel Garcia is working in the family bakery and doing everything that his loving Cuban parents and siblings expect him to do, until his life changes unexpectedly on a wild Miami night with a chance encounter with Noa Hollander at a fancy restaurant.
Noa is an international superstar, the daughter of a real estate magnate and a successful model, just out of a high-profile Hollywood relationship. Sparks fly between the two and the unlikely couple must decide whether to upend their lives to be together, pulling their families into an inevitable culture clash.
Don't judge this one by it's cover! Trust me! I almost passed up on this one, but it was delightful to watch, and I may just watch it again. I'm a sucker for rom-coms.
Watch on Netflix
Teenager Julie finds her passion for music and life while helping a trio of ghostly guys become the band they were never able to be. And along with the world, this one's a fave for my nine-year-old daughter as well! So make sure you check it out.
Watch on Netflix
Mr. Iglesias
Stand-up comic Gabriel Iglesias stars in this series as a good-natured high school history teacher who tries to help gifted misfits. This one is one of my personal faves.
However, this one does have a PG-14 rating, and rightfully so, for some language use. So if you've got older kids it's a great comedy to watch. But if not, you'll have to skip this one, or watch it when the little ones are in bed.
Watch on Netflix
A music-loving kinkajou embarks on the journey of a lifetime to fulfill his destiny and deliver a love song for an old friend. If your family loves Lin-Manuel the way my family does, and you haven't seen this one yet, you're in for a treat!
Watch on Netflix
Diary of a Future President
Elena Cañero-Reed will one day become president of the United States but, for now, she's navigating her first year in the jungle that is middle school. As a sixth grader in Miami, Elena learns valuable lessons that will lay the foundation for her future success. Alongside best friend Sasha, brother Bobby, mother Gabi, and her mother's new boyfriend, Sam, Elena documents the pivotal highs and lows of her journey in her trusty diary.
My daughter and I loved watching Season 1 together, and now that Season 2 is also streaming, your family will have lots to watch this month.
Watch on Disney Plus
A trio of friends discover a sinister plot to destroy their neighborhood. They decide to band together to save their town from vampires. Perfect for Hispanic Heritage Month, or even Halloween, Vampires vs the Bronx is another one I personally love. Especially since it's set in NYC!
But beware, this one has a PG-13 rating for some violence, language and suggestive references. So if you've got older kids, go for it! But it may be too much for the younger ones. (Even if they tend to watch some PG-13 movies.)
Watch on Netflix
Street Food: Latin America
In this vibrant docuseries, Latin American chefs tell their stories and bring a taste of tradition and innovation to their delicious offerings. So if your family loves cooking shows, add this to your watchlist ASAP!
Watch on Netflix
Coco
Despite his family's generations-old ban on music, young Miguel dreams of becoming an accomplished musician like his idol Ernesto de la Cruz. Desperate to prove his talent, Miguel finds himself in the stunning and colorful Land of the Dead. After meeting a charming trickster named Héctor, the two new friends embark on an extraordinary journey to unlock the real story behind Miguel's family history.
Like Vivo, this one's for the kids who love music. However if you're thinking of passing on this one because it focuses on the Day of the Dead traditions, and it maybe too scary for your kids, Disney may shock you. However, my daughter did say some of her classmates cried at the end of this film on a class trip. So bring tissues.
Watch on Disney Plus
The Book of Life
In the Mexican town of San Angel, Manolo, Maria, and Joaquin have been friends ever since childhood.
Although their lives have taken different paths — Maria was sent to Europe, Joaquin joined the military, and Manolo studied to become a bullfighter — one thing remains the same: Manolo and Joaquin both want to marry Maria. Little does the trio know that battling husband-and-wife deities have made a high-stakes wager on the love triangle's outcome.
Another Day of the Dead animation film that's sure to make your family laugh out loud.
Watch on Disney Plus
Elena of Avalor
Princess Elena is on a journey that began years earlier when evil sorceress Shuriki took her parents and kingdom from her. Now, having defeated Shuriki, the royal teenager is due to take her place on the throne but needs help ruling Avalor — that assistance comes in the form of the Grand Council, made up of Grandfather Tito, Grandmother Cici and royal adviser Duke Esteban. Princess Elena goes on adventures — with wizard-in-training Mateo and magical Skylar at her side — that help her understand the traits that make a good leader.
While this one looks like it's just for kids, you may be surprised at how much you love watching it with them.
Watch on Disney Plus
Nailed It: Mexico
The "Nailed It!" culinary franchise heads south of the border with this entry that sees home bakers in Mexico try to re-create edible masterpieces.
As with the other "Nailed It!" shows, the contestants don't have a strong track record in the kitchen so it'll take all of their baking skills — and, hopefully, more — in order to get a chance to win the competition and the $10,000 prize that is awarded to each episode's victor. Actor Omar Chaparro hosts the Spanish-language series, which features renowned baker Anna Ruiz as its head judge.
So if you've got kids that love being in the kitchen, here's another one your family can binge this month.
Watch on Netflix
Ferdinand
Ferdinand is a young bull who escapes from a training camp in rural Spain after his father never returns from a showdown with a matador. Adopted by a girl who lives on a farm, Ferdinand's peaceful existence comes crashing down when the authorities return him to his former captors. With help from a wisecracking goat and three hedgehogs, the giant but gentle bovine must find a way to break free before he squares off against El Primero, the famous bullfighter who never loses.
We love Ferdinand, so if you haven't seen this one yet, you're completely missing out! Make sure you watch the end credits for a special surprise that is sure to delight the kids.
Watch on Disney Plus
The Wizards of Waverly Place
Alex Russo and her brothers Justin and Max come from a long line of wizards and now must master their newly learned powers or lose them forever. Their dad, Jerry, gave up his powers when he married their mortal mom. The family business is Waverly Sub Station in busy Manhattan, and the three young wizards get into all sorts of crazy situations as they grow up facing typical teen challenges like school, friends, family and magic.
And yes, I still watch this one, even as an adult today, anytime my daughter turns it on! If your family loves magic related movies and tv shows, they'll definitely love this show.
Watch on Disney Plus
Having spent most of her life exploring the jungle, nothing could prepare Dora for her most dangerous adventure yet — high school. Accompanied by a ragtag group of teens and Boots the monkey, Dora embarks on a quest to save her parents while trying to solve the seemingly impossible mystery behind a lost Incan civilization.
I don't care what anyone says, Dora and the Lost City of Gold is a must see for all families! Especially those who grew up watching Dora the Explorer! This movie is one of the best family films I've ever seen and I've seen plenty of family films!
Watch on Hulu
Ugly Betty
The series focuses on the life of wannabe writer Betty Suarez, a plain girl from Queens, N.Y., who is smart, hardworking and savvy but has a different sense of style. When publishing mogul Bradford Meade puts his son Daniel in charge of his Mode magazine, he hires Betty to be Daniel's new assistant — mostly because he knows that she may be the only woman in Manhattan with whom the younger man won't sleep with.
Ugly Betty was one of the very first shows I watched that helped me realize I love writing. It's a wonderful series, that stars America Ferrera, and is great for older kids who maybe aspiring writers as well.
Watch on Hulu
Party of Five
Five children suddenly find themselves without their parents in this remake of the '90s Fox drama. When their parents are deported back to Mexico, Emilio, Beto, Lucia, Valentina, and Rafael must learn to fend for themselves until they can find a way to get their parents, Javier and Gloria, back into the United States.
This one has a PG-14 rating, and rightfully so, but if you've got older kids it's a great watch. Party of Five tackles immigration, and what happens when parents are deported and have to leave their kids behind. It's a great opportunity to teach kids that they should be kind to others because you just never know what they're going through.
Watch on Hulu
Selena + Chef
While in quarantine during the COVID-19 pandemic, singer Selena Gomez brushes up on her cooking skills with the help of master chefs.
I don't personally recommend trying to cook while you watch this, but maybe it'll be fun to have the kids try to cook something while you teach them afterwards? Either way, this one will surely remind the entire family that mistakes in the kitchen are okay as long as you're having fun.
Watch on HBO Max
Spy Kids
Spy Kids is an American spy action comedy adventure family film series created by Robert Rodriguez. The main series follows the adventures of Carmen and Juni Cortez, two children who become involved in their parents' espionage.
Listen if your kids haven't seen the first Spy Kids movie yet, now's the time to get them hooked! Just don't be shocked when they're walking around the house pretending to be spies themselves.
Watch on Starz
Gotta Kick it Up
At a Southern California middle school with a largely Latin-American student population, Yolanda and Daisy convince new biology teacher Ms. Bartlett to become the coach of their dance team.
After some early setbacks, the girls rebel against their Juilliard-trained coach's discipline and old-fashioned ideas. But after the girls sneak off and perform in an intramural competition without their coach's knowledge, the two sides must find middle ground.
An oldie, but definitely a goodie! Especially if your kids love dancing.
Watch on Disney Plus
On My Block
"On My Block" follows a quartet of bright, street-savvy friends who are navigating their way through high school, including all the of the triumph, pain and newness they experience along the way. Lifelong friendships are tested as Monse, Ruby, Jamal and Cesar confront the challenges of adolescence and life in their predominantly Hispanic and black neighborhood in South Central Los Angeles in this coming-of-age comedy series.
This one has a PG-14 rating, so it's best for families with teens, not younger children. But, it's an absolutely wonderful series, and the finale season will begin streaming on Oct 4th, so now's your chance to binge and catch up.
Watch on Netflix
The Cheetah Girls
This series of movies is iconic in the Disney Channel canon, and a must see for any families with kids who like to sing and dance. Four Manhattan friends: Galleria, Chanel, Dorinda and Aqua form a singing group, The Cheetah Girls. They go from singing at children's birthday parties to worldwide fame though the three movies.
Watch on Disney Plus
This comedy-drama is inspired by Norman Lear's 1975 series of the same name. This time around, the series follows the life of Penelope, a newly single Army veteran, and her Cuban-American family, as they navigate the ups and downs of life.
Now a nurse, Penelope is raising two strong-willed children. When faced with challenges, Penelope turns to her "old-school" mother, and her building manager, who has become an invaluable confidant. The series offers a contemporary take on what life looks like in both good and bad times, and how loved ones can help make it all worthwhile.
It's hilarious, but may not be suitable for very young children, despite it's TV-PG rating.
Watch on Netflix
Always feeling like they have to say "no" to their kids, Allison and Carlos decide to give their three kids a "Yes Day," during which the kids have 24 hours to make the rules. But you've been warned, your kids will ask for their own "Yes Day" after watching this, and you'll be inclined to say yes.
Watch on Netflix
The Casagrandes
An 11-year-old adjusts to her new life living under one roof with her multigenerational Mexican-American family and over a market which serves as a gathering place for everyone in the neighborhood. A Nickelodeon series kids will surely love watching with you.
Watch on Paramount Plus or Nickelodeon
Now, Hulu also has a few popular shows and movies dubbed in Spanish as well. So if you're looking to introduce your kids (and yourself) to a new language, check out Hulu's list of Spanish dubbed shows and movies here. Just don't forget to turn on the subtitles.
But most importantly, don't forget to celebrate Hispanic Heritage Month!
This article was originally published on