How Gary Sinise Shows Up For My Family Every Year At Christmas
by Leslie McCaddon Mendoza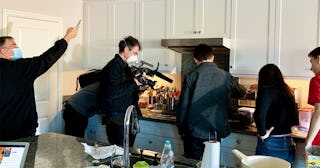 Courtesy of Leslie McCaddon Mendoza
Trigger warning: suicide
Although every literary bone in my body may want to protest, I have to say, sometimes Hollywood gets the story right.
My life could be a movie. That's not just me saying that. At least one of my friends agrees.
Nine years ago, I sat across the table from my old high school theater friend, Scott, and told him my sorry tale in order to earn a free lunch. We'd challenged each other to our sad stories, promising that whoever had the saddest didn't have to pay for their Cheesecake Factory.
Game on.
I hooked him coyly with my love story — young ingenue from Boston meets handsome soldier on the bomb squad in Oklahoma and (5,000 phone calls, a few failed relationships, and a couple of deployments later) they fall in love, get married, and have three kids in four years.
"Fine," Scott said. "Sappy Hallmark movie status, check."
"Just wait," I promised him.
In the sequel, they struggle through the soldier's undergraduate education; their oldest battles (and eventually survives) cancer. Together, they triumph and pay forward their blessings when the soldier returns to service in the military and is accepted to the military's elite medical school.
"Ok, maybe a Lifetime Movie Network script could be pitched," Scott conceded. Also, he warned me to have my credit card handy. "Lunch is definitely going to be on you, you cry baby."
"Wait for it," I promised.
I'm about to seriously up my saddest story game. Except, it turns out, according to Scott — I epically overshoot. You see, the rest of my story was that my marriage began to falter as my husband struggled with emotional regulation and suicidal ideation — maybe caused by his time on the bomb squad, or maybe not. Then, five months after I'd stepped away from our marriage (at least geographically) for the safety and sanity of myself and my kids, my husband — my funny, sweet, handsome, out-of-a-romcom soulmate — completed suicide on the labor and delivery wing of the same hospital where he was a beloved, respected and up and coming OB/GYN resident.
"I'm not buying it," my friend said through his cracking voice. Even so, his eyes dampened as he reached for the check.
"No one is buying this script," he claimed. "It's just, not believable enough."
He instructed me that I was simply reaching too hard to mess with the audience's emotions. I needed to dial it back. Lose the childhood cancer. Or, have the soldier survive the suicide attempt. The way I was telling the story was just not going to sell. At least, not unless I could write in some sort of redemption. Some kind of a happy ending.
Our lunch ended with a lingering hug goodbye in the parking lot and a promise to see each other again soon.
I knew Scott was right. I hated the ending to my story. As a lifelong lover of Disney princess tales it was so horrifically far from the happy endings I had envisioned for myself and my children. I was even beginning to lose my lifetime faith that a fairy godmother or a genie in a bottle could provide the deus ex machina our story clearly required.
For the first couple of years after my husband's death, I managed to carve out a script that could pass as part b-grade survival flick and part independent student horror footage. I was aiming for "hopeful" but was ready to admit that most of my imagined table readings came across as "pathetic" and "pitiful."
My second Christmas into my alternative-ending rewrites is when I first met Gary Sinise. Our family had been whisked off to a charity event in Dallas called Snowball Express and Gary Sinise was there to entertain 1,000 children of the fallen with a live concert by his Lt. Dan Band. By then I'd been on countless failed dates, moved my kids across the country for a "fresh start" and was resigning myself to a life of lonely martyrdom. It seemed that so many people in our lives had moved on and expected the same of us. Except, for me and my kids, our grief was still there and still evolving.
"We won't forget you. We love you," Gary Sinise promised me. I don't know if it was the tone of his voice, the warmth in his eyes or the grip of his hug — whatever it was, it felt true. I believed him.
Seven years later, though many others have broken their promise to "always remember," Gary Sinise and his foundation have never stopped showing up. The Gary Sinise Foundation shows up for my kids, and thousands of others, for the annual Snowball Express event right before Christmas. Right at the end of the year, when our broken hearts aren't sure they can take one more day of grief, they give us a tsunami of love and an ever-flowing river of new memories.
A couple of years ago, the foundation took over the charity event and moved the entire operation from Dallas to Walt Disney World. The last two Decembers, my children and I have enjoyed an all-expenses-paid vacation at Walt Disney World. We've been entertained, filled with love, and most importantly surrounded by the love and understanding of thousands of family members just like our own. My kids both count on, and feign shock, that every year Gary greets them at the airport and remembers them. By name.
Then 2020 got rolling, and a reunion of remembrance at the happiest place on earth seemed less and less likely. Finally, the news came, we would not be gathering for Snowball Express this year. We had seen it coming, but we were still heartbroken.
A few weeks ago we received an invitation to register for a virtual Snowball Express experience. My now 18, 16, and 14-year-olds grimaced at all the potential for lameness the invitation promised. You can't "virtually ride a roller coaster" or "virtually hang out in a teen lounge." It just wouldn't be the same. Still, we registered.
A few days before the event, I received a phone call from the Gary Sinise Foundation asking if I would be open to a film crew coming to our home to document us experiencing some of the virtual events. As much as we wanted to give back, we also weren't too sure what it would mean to welcome strangers into our home for an event we still couldn't quite envision. Of course, we couldn't say no to "Uncle Gary" and all the amazing staff and volunteers who do so much for us every year, so we tidied the house and set the early morning alarms and braced ourselves for weirdness.
We had nothing to worry about. It turns out love can show up on the internet as powerfully as it does on Main Street USA.
Less than an hour into the filming my kids were making pancakes together with a camera inches from their faces and they didn't skip a beat. In fact, they teased each other (as usual) laughing and joking as they attempted to emulate the art and craft of "Dancakes" which was offering a virtual demonstration. Talk turned to memories of their dad, and my son made some of the drip-cakes my late husband used to make with the last little remnants of batter. "Pancake cereal," he offered. "Dad-cakes?" the seasoned film director suggested. And, scene.
I sat a few feet back from it all and in this moment, I finally saw the redemption to my love story in all its beauty and clarity.
It wasn't my new marriage. Or the beautiful new home we just purchased. Or even the glitz of the Hollywood lights that were aiming into my kitchen from the backyard. My love story, it turns out, has very little to do with me, and everything to do with my kids.
Somewhere between the funeral and making pancakes, my kids have emerged as the sort of human beings who are looking for where they can spread love like it has been showered on them.
They want to be like their Dad.
And, they want to be like Gary Sinise.
Somehow Hollywood, with all its bad rap for being a place of selfish ambition and insatiable vanity has, for us, become the backdrop of selfless service. Each year, multiple celebrities and thousands of volunteers show my kids that the most rewarding thing any of them could ever do with their lives is to help others. To serve. To be grateful. To inspire.
It is true we missed out on the in-person magic of Disney this year. Yet, we may have finally uncovered the perfect alternative ending to our "saddest story script." The story won't belong on Lifetime. Or even Hallmark. Our story has up-leveled to one that the studios in Hollywood love to tell.
Our story has finally become one where adversity doesn't define us as much as it strengthens us.
Where people show up unexpectedly and bring out surprising and heroic aspects of ourselves.
Where the happy ending doesn't tie up all the loose ends but rather leaves you walking away from the cinema confident that the story is just beginning and the best is yet to come.
Sometimes, when all the right players work together to tell a story much bigger than themselves, Hollywood writes an award-worthy script. A script where they don't pander or manipulate or exploit. Just a script that tells a real story of love, loss, and redemption. On-screen, and in life, sometimes Hollywood gets the story exactly right.
You can watch a review of the virtual Snowball Express event this year, here. Although our family participates in GSF events, I am not affiliated with the organization.