Jennifer Garner's Son Renamed Her Spices And TBH, He Nailed It
by Sarah Bregel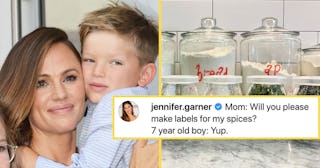 Albert L. Ortega/Getty and Jennifer Garner/Instagram
Jennifer Garner's son helped her out in the kitchen in the most hilarious way
Jennifer Garner's son clearly got his mom's sense of humor. The actress, who loves to post cooking videos on her Instagram (some totally useful, others just downright fun), just shared another hilarious photo from her kitchen and we're totally here for it. Only this time, her son is the one making followers laugh their meatbutts off. You'll get that joke in a moment.
It began when the actress asked 7-year-old son Samuel for some help in organizing the kitchen. She wanted him to give her spice labels a makeover, but he couldn't help but pepper in some humor. Because, 7-year-old boys have always got the jokes.
As far as 7-year-old pranks go, this one was pretty good, and definitely worthy of a social media share. Garner captioned the photo "Mom: Will you please make labels for my spices? 7 year old boy: Yup." She also hilariously added the hashtag #thatswhatigetforwantingfunnykids. Our guess is, she's not too mad about the new spice labels, though. As a mom of three, she's likely well accustomed to practical jokes.
It's hard to pick out a favorite. "SAGE THE CHILDREN" is a clear nod to one of Jen's favorite charities, Save The Children, so that's pretty clever. But who could not chuckle at "MEATBUTT" or "ROSEFART" or "PARSPEE." On point with the bathroom humor, kid. On point.
The mom of three is clearly passionate about cooking and having fun while she does it. It seems like young Sam has picked up on that. But Garner is always sharing her little cooking adventures, which she hashtags #PretendCookingShow. Whether it's making pizza or experimenting with Ina Garten's recipes, it's always pretty fun and adorable. With her new spice labels, now her cooking experiments will be even more humor-filled.
Garner is obviously a believer in getting kids involved in cooking and feeding them quality food, which is likely why she funds a baby food company called Once Upon A Farm that makes natural baby food (that isn't older than the baby). This video of her scrubbing mango off the ceiling is a pretty good and speaks to why it's a whole lot easier to just buy the good stuff than to make it yourself.
Jen loves her some veggies. Here she is having a special moment, chatting to and kissing some farm fresh squash that were sent to her as a gift.
Let's hope Jen keeps sharing her foodie ventures with us, and that Samuel keeps on helping his mom out in the kitchen, too. If so, there's bound to be a lot more culinary hilarity from the Garner family.
This article was originally published on