Jessica Simpson Learns 'A Lot About Self-Love' From Her 9-Year-Old Daughter
"She is fearless and hopeful," Simpson says of daughter Maxwell.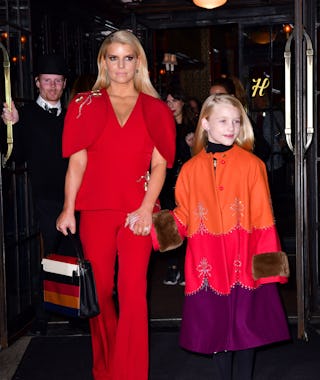 James Devaney/GC Images/Getty Images
Jessica Simpson has been no stranger to criticism throughout her many years in the public eye. So the 41-year-old singer and fashion designer is pleased to see her daughter growing up at a healthy distance from the shadow of scrutiny.
Maxwell, aged 9, "teaches me a lot about self-love, to be honest," Simpson told People. "She is so cute and so adorable and so confident and just owns it."
Simpson added, "Her intuition is unreal. She truly loves herself."
Having shared publicly about her own struggles with weight, addiction, and a history of sexual abuse, the mother of three credits her daughter's confidence to the power of her own example.
"I don't think it's something that I taught other than the way I walked in my life," she told People. "It's not really about what I say. It's more about what I do."
"She sees me happy and confident," Simpson continued. "That's all that really matters to your children is that they see you loving yourself, and [then] it's easy for them to love themselves."
Simpson, who also parents son Ace, 8, and daughter Birdie, 3, with husband Eric Johnson, said of Maxwell, her eldest, "it's just something that is embedded in her. She is fearless and hopeful."
While the performer is well aware of the dangerous influence of social media on kids' self-image, she is confident that Maxwell has a good head on her shoulders and will weather the storm.
The 9-year-old is on TikTok, but Simpson told People she's "not worried about it."
"I understand parents that are," she added, "but with Maxwell, all the filters and that type of stuff, I [just] have to tell her that's not perfection. That's not beauty."
Social media, she said, "hasn't affected her mental health, it's only given her, actually, creativity."
"It's really just about being in the moment with your children," Simpson continued. "If they are on social media, just letting them know that their heart is beautiful, that's what shines. Not the glow filter."
Simpson has been open about the role that self-love has played in her own journey. In an Instagram post in November of 2021 celebrating the 4th anniversary of her sobriety, Simpson wrote, "The drinking wasn't the issue. I was. I didn't love myself. I didn't respect my own power. Today I do."
In addition to the example of their mom's self-love, each one of Simpson's kids gets plenty of her wholehearted affection.
Of 8-year-old Ace, she told People, "my son's a stud. He's good at everything. Everything. There's nothing that Ace is not good at — it's crazy!"
On the occasion of her youngest's third birthday in March, she posted sweet photos from the Barbie-themed party, writing: "Honestly, I wish everyone of you could hang out with Birdie for 5 minutes so you could belly laugh, listen to her stories because you cannot get a word in (you will be shushed), and feel the abundance of joy her spirit radiates. Not a soul loves life more than Birdie and I am blessed to be her mother!"
While societal pressures weigh heavily on kids as they grow, Simpson is parenting by putting love first — and by teaching them all she's learned during her journey.