Kourtney And Travis' PDA Makes Kris Jenner Want To Hide In A Closet
by Kristina Johnson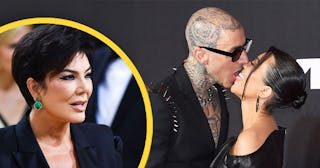 Stephen Lovekin /Broadimage/Shutterstock
Tell us how you really feel, Kris
Unless you live under a rock, you've probably heard by now that Kourtney Kardashian and rocker Travis Barker are in love. Very, very much in love. Like, matching tattoos, ass-squeezing and tongue-kissing in public type of in love. The couple recently got engaged, and no one is happier for them than Kourtney's mom Kris Jenner — but even she could use a little break from the constant PDA.
Jenner appeared on Ellen, decked out in an amazing Cruella de Vil costume and gushing about her daughter and soon-to-be son-in-law. "Kourtney and Travis, they're really made for each other," Kris said. "They really are. They're the cutest couple, they're so in love. And you know, they let us know that they're so in love… constantly."
Ellen, of course, pounced on that pointed constantly. "How does it feel when they're next to you, and they're like, making out and practically having sex?" the talk show host asked, and to her credit, it was only a very slight exaggeration of the behavior the head over heels couple has engaged in over the past few months. Just check out their Instagram feeds, which practically border on NSFW. This relationship did kick off, after all, with that infamous thumb sucking video.
"You feel like… they're the only two people in the room," Kris admitted. "And we almost don't know what to do with ourselves, like I'm looking for a closet to hide in and somewhere to go." OK, good — so it's not just the rest of us then?
Still, though, the proud mama can stomach a little (or a lot of) PDA to see the two so happy. "They're in that stage, and it's really, really special, and I'm so excited." Jenner revealed that Barker came to ask for her blessing before he proposed to Kourtney earlier this month with a romantic beachside floral display.
There's no word yet whether Kourtney and Travis's wedding will be televised just like sister Kim's wedding to Kris Humphries or Khloe's marriage to Lamar Odom — though given how both of those unions turned out, maybe they should say no.
There's a good bet that the engagement and the family celebration that followed will be shared with fans, though — eagle-eyed followers caught glimpses of what appeared to be a film crew on hand in pics posted afterward, likely for the Kardashians upcoming Hulu show. So if you haven't gotten enough of Kourtney and Travis by now — even though we regularly get an eyeful from them — rest assured, there's much more to come.