Finally, The First Full-Length Trailer For Disney's Live Action 'The Little Mermaid'
It includes some iconic moments from the original, like the shipwreck, the lagoon kiss, and the deal with Ursula.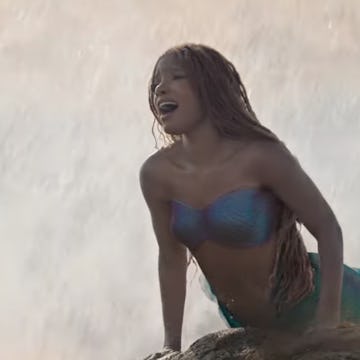 Disney / YouTube
Yes, the Academy Awards were exciting and whatever. Lots of people won Oscars and stuff. But let's talk about the real news, which is that Disney dropped the first full-length trailer of the live-action The Little Mermaid during a commercial break from the big show. It comes 33 years after the original animated movie won an Oscar for Best Song in 1990.
Clocking in at over 2 minutes, this is the first time the world has gotten an extended, plot-related look at the new movie, which drops this spring.
It opens with shots from the shipwreck that allows Ariel (played by Halle Bailey) and Prince Eric (played by Jonah Hauer-King) for the first time. And then we get to see Ariel's trinket-filled treasure trove, King Triton (played by Javier Bardem), Scuttle (played by Awkwafina) and more.
We also got to spend some extended time with Ursula the Sea Witch, played this time by Melissa McCarthy. Lots of creepy sea cave vibes, and we're here for it!
At this point, most of the individual shots look like they're taken directly from the classic 1989 film: Ariel swimming to the surface with her new legs, Ariel brushing Prince Eric's forehead on the beach, Ursula being Ursula, but we'll have to wait until May to see what exactly has changed and what's stayed the same.
In the last sneak peak, which released in February, we got to see first glimpses of heartthrob Prince Eric and octopus villain Ursula.
Bailey herself shared the news on Twitter, saying that there are only 100 days until the movie drops in theaters.
The 30-second spot includes Bailey signing the last lines of "Part Of Your World," while also sharing a few snippets that we already saw in the original teaser. But there is some new stuff, too! Viewers get a tiny look at the mermaid empire Atlantica, as well as a playful moment between Ariel and a blowfish. Near the end of the clip, we see a millisecond of Ariel as a human, seemingly in a rowboat with Prince Eric during the beloved "Kiss The Girl" song.
At the very, very end of the the trailer, after the release date fades out, a dark and dreary image of Ursula comes into view, accompanied by her signature evil laugh. Yikes!
The first teaser trailer of the movie didn't give away too much, either. There are shots of gorgeous coral reefs, thriving underwater ecosystems, and a sunken ship wreck that one teen mermaid peeks out from. There's a glowing cave that Ariel and Flounder (Jacob Tremblay) investigate and quickly dart away from. One thing this teaser trailer does give, however, is major goosebumps as Bailey sings "Part of Your World" at the end in her powerful, ethereal voice.
Disney previously announced the rest of the vocal cast in December 2020, and the Little Mermaid cast is absolutely stacked with Daveed Diggs as Sebastian, Javier Bardem as King Triton, Awkwafina as goofball seagull Scuttle, Jonah Hauer-King as Prince Eric, Jacob Tremblay as Flounder, and Melissa McCarthy as the evil sea witch Ursula.
First off, we have Daveed Diggs as Ariel's trusty crab sidekick, Sebastian. Diggs is particularly well known for originating the role of Marquis de Lafayette/Thomas Jefferson in the Broadway musical Hamilton, but he has a pretty impressive film resume, as well. If nothing else, you only need to listen to his rapping parts on "Guns and Ships" to know he has talent that could literally fill an ocean, and we're beyond stoked to see him in The Little Mermaid.
Ariel's other sidekick, Flounder, will be played by Jacob Tremblay, who won a Critics Choice Award for his role in Room when he was just nine years old. Ariel's father, King Triton, will be played by Javier Bardem, a Spanish actor known best for his work in films like No Country for Old Men, and, perhaps most notably, being Penelope Cruz's husband and therefore one half of one of the best-looking couples on planet Earth. No doubt he'll bring a certain Daddy Energy™ to this role, and that's what it needs, TBH.
As Prince Eric, we'll have Jonah Hauer-King, who, to be perfectly honest, I had not heard of before this casting announcement. He appears to be a relative newcomer in Hollywood, but has appeared in a handful of feature films and some pretty big miniseries in the U.K., including Little Women. Laurie Laurence and Prince Eric have identical chaotic energies, if you ask me, so this should be fine.
Rounding out the cast of The Little Mermaid, there's Melissa McCarthy as the villainous Ursula, something we were begging the producers and casting directors for months ago. And in a little bit of a surprise move, Scuttle the Seagull will be female, and played by the incredible Awkwafina. She's so talented, so we can't wait to see what she does with this iconic role.
Overall, this cast is fresh, diverse, and packed full of talent. The Little Mermaid is set to become part of our world in theaters on May 26, 2023.
This article was originally published on