Naomi Watts on Aging: 'Hopefully the Old Lady Gets the Last Laugh'
by Donna Freydkin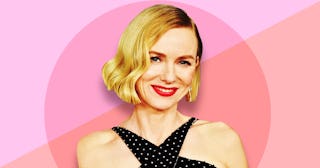 Scary Mommy and Gregg DeGuire/Getty
"I look my age! Don't worry! I totally know what you're saying and thank you. Thank you. Hopefully the old lady gets the last laugh."
If you want to connect with Naomi Watts, who has made it something of a personal mission to bring to life otherwise unremarkable women experiencing devastation, loss, and other bewildering curveballs life throws your way, talk about kids. The two-time Oscar nominee, who absolutely shut it down as a grieving mother in 2004's 21 Grams, can easily run a side hustle as a parenting coach.
Years ago, when her kids were bickering preschoolers fighting over toys, she suggested placing the playthings in what she called toy jail: Out of reach, but clearly visible, with a countdown on when they would be released again. It worked. So well, that it remains in use with parents of younger kids throughout the 11215 zip code, long after her sons Kai, 12, and Sasha Schreiber, 13 (with former partner Liev Schreiber) have outgrown the gambit.
So it stands to reason that the stories that most light her creative fire are centered around mothers just trying to make the best of it, when life gives them the middle finger. In Penguin Bloom, a movie that has every right to be treacly but isn't, she's Sam, a mom of three who's paralyzed about a devastating fall. Lacking the will to live, she finds it in a rescue bird, a magpie named Penguin.
"Sam didn't think she was going to make it — she lost the will to live. She's a deeply impressive woman. I'm always looking for stories to tell where the character is a pretty ordinary person living an ordinary life but has to undergo something extraordinary. We all want to see ourselves in these stories. Who would I be? How would I cope?" says Watts, before she's cut off. "Oh, my dog just hit her head! She's so determined to get the ball and she jumped into the corner of the table but she's all right."
Scary Mommy talks to Watts about pandemic puppies, staying connected, and why resilience matters.
Naomi, toy jail. Best advice ever. It still is alive and well with my friends who have younger kids.
I remember that so well! We've talked since then but I do remember how you locked on to that. It doesn't work for me anymore at all.
For me either. Now we're onto video games and making in-app purchase without permission.
I'm curious to know how that went. Every parent has that happen to them once. We had a $300 one and I flipped out. That don't realize, do they? Next thing you know you're in the trap, deep.
I think your movie really taps into what we're living through now, this sense of isolation and desolation.
We see little glimmers of hope now. It does seem to tuck into our world right now, with people suffering from loneliness. That's certainly a version of what she was going through, feeling disconnected and living in her private hell. The only thing she could connect with was this tiny little creature that didn't expect anything from her and would not judge her. I shared the reading of the book the first time with my children and we were completely drawn into the story.
What did you learn about yourself, making this movie?
We are resilient. We can find ways. We adapt. We find ways to navigate it. We've been forced to slow down and revaluate and be resilient. What matters most, who do we want to be around — those were important questions that needed addressing.
You've got two boys, and this was an intense film. How do you leave that at the door and not bring it home with you?
Every case is different. It was very much a family movie. My kids were there. We had the on-screen kids. It was like a summer camp. This is what family is: Ups and downs. Life is so precious and so valuable, so to get in touch with that is what drew me in.
Your pandemic Instagram posts were peak mom, in the best sense. Broken appliances. Homeschooling woes.
I was definitely poking fun at myself, to be clear. I was super hunkered down and trying to navigate the whole virtual school system. I could barely operate Google Classroom and the same with my kids. A woman in her early 50s, not tech-savvy. It was quite the time. It's not normal, is it, to spend that much together with no break?
My kids are at the age where I can leave the house to go to the supermarket. Having to navigate that all on your own with small kids — my heart goes out to those champions. It's hard for everyone. I'm not here complaining. We got a puppy. That was helpful. They miss their friends, other kids. They're supposed to interact and play and not just see each other on screens. They need momentum and keep going and evolving and when it suddenly stops, I worry.
And you're a partner in Onda Beauty. How did that come about for you, becoming a beauty entrepreneur?
I'm passionate about skin, more than clothes. It's a part of my work. Having spent years working with makeup under hot lights and pounding layer over layer and having reactions — I'm more sensitive. My friends invited me to be a third founder. I saw an instant change. It felt like, oh wow, this makes a lot of sense.
And how do I say this, without it sounding like a backhanded compliment when it's anything but — you look amazing, and you look like you.
I look my age! Don't worry! I totally know what you're saying and thank you. Thank you. Hopefully the old lady gets the last laugh.