UCLA's Nia Dennis' Stunning Floor Routine Pays Homage To Black Excellence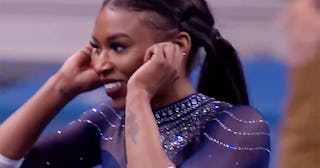 UCLA Gymnastics/Twitter
Nia Dennis is a star, plan and simple
UCLA gymnast Nia Dennis put together a "Black excellence" floor routine for a recent meet and it's nothing short of perfection (according to the judges it nearly was).
Dennis, a senior at UCLA, was competing against Arizona State when she introduced the crowd to her routine celebrating Black culture. The music for the routine was a mix of Kendrick Lamar, Beyonce, Missy Elliott, Soulja Boy, Tupac Shakur, and Megan Thee Stallion, and when I say it was fire, I mean it was FIRE. I will urge you to please grab tissues because you will be crying and smiling and clapping and jumping off your couch because her routine is legendary.
Her routine scored a 9.950 out of a possible 10 and pull UCLA to a victory over Arizona State. "This routine definitely reflects everything that I am today as a woman and of course I had to incorporate a lot of parts of my culture," Dennis told Los Angeles Daily News. "I wanted to have a dance party because that's my personality and of course I had to shout out LA because we out here, UCLA."
Her routine has been viewed millions of times since and even caught the attention of the United States' most decorated gymnast. "Do the damn thing girl," Simone Biles wrote on Twitter. "This was so fun to watch! Keep killing it!"
"This routine definitely reflects everything I am today as a woman," Dennis continued. "Of course I had to incorporate a lot of parts of my culture." Her routine was a mix of dancing, stepping, and some seriously flawless gymnastics.
Missy Elliott also gave her nod of approval, tweeting: "Snappin."
https://twitter.com/jetpack/status/1353434461548015617
Others continued to pour on the praise for the routine and the attention to Black culture Dennis brought with her.
Queer Eye star Karamo Brown got in on the action, adding, "Because of (co-star Jonathan Van Ness') love of gymnastics I found a love for the sport too! And this young woman from @uclagymnastics is a star!" Van Ness has been seen with Simone Biles in a series of Uber Eats commercials.
Dennis, who was born and raised in Columbus, Ohio, has been killing it with UCLA's gymnastics team for years. Last year, she earned praise for a routine based around Beyonce's "Crazy in Love" and later appeared on the Ellen DeGeneres Show.
Dennis sat down with NBC's Lester Holt to talk about the routine, telling him that the stepping was an homage to her father, Casey, who stepped in college for his fraternity. The closing song — Tupac's "California Love" — was a shoutout to Los Angeles.
Dennis' routine is a must-see. It's inspirational, emotional, and just plain fun to watch.