Rachel Lindsay: I Had To Be The 'Exceptional Black Girl' On 'Bachelorette'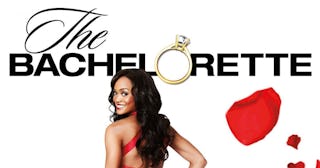 ABC
The first Black Bachelorette opens up about her actual experience with Bachelor Nation and being on the show
Here's the problem about being the first person of color in a space: no one knows what to do with you. While the presence of a minority is often welcome to many, the accompanying change in dynamics and visibility can make even the most well-intentioned ally stumble. And this is something former Bachelorette Rachel Lindsay knows something about.
Following her stint as the first Black Bachelorette in the famous ABC Bachelor franchise, Lindsay has taken a step back from her involvement in Bachelor Nation, due to her treatment on the show and the current "toxic" state of the show's fandom.
In a new article for Vulture, Lindsay details what it was like to feel like the first, or 'token,' Black lead.
"In 2018, I felt like I had changed the franchise just by representing myself as a Black professional woman in her 30s — those things had never before been seen on the series," Lindsay shared in the interview with Vulture.
Lindsay says she resolved to be open with the producers during the interview process. "The first thing one of them said was 'So you're Black. As you can see, we've had a really hard time casting people like you.'" Lindsay responded to that producer with: "I don't watch your show because we aren't represented. It's not for us." Producers seemed to appreciate her candor. "What I was saying didn't scare them," said Lindsay.
"In the years since, I had gone from a former contestant who advocated for more diversity to one who spoke critically about the show and tried to hold those involved with it accountable."
The pressure to be perfect was not lost on Lindsay.
"I couldn't be like the Bachelorettes who had come before — somebody who was still living at home with her parents, who had 'pageant queen' on her résumé," Lindsay admitted. "I was a lawyer. My father was a federal judge. I had a squeaky-clean record. I had to be a good Black girl, an exceptional Black girl."
"I had to be someone the viewer could accept. And I was a token until I made sure I wasn't," she said. "The thing is, the day I went on the show, I didn't wake up and say, You know what? I'm going to start standing up for myself. I was taught at a very young age to speak up about injustices. It was no different with Bachelor Nation. And I don't think they ever saw it coming."
Lindsay told Vulture she initially turned down the idea of being the Bachelorette after her season on The Bachelor. "I didn't want to lose my identity," she said. "Then one day back home, I went to church. It's a big Texas megachurch, and we were all congregated in the lobby after service one Sunday. My season of The Bachelor wasn't out yet, but someone there knew I was on it. They said, 'My daughter likes the show. I'm so excited she can see someone who represents her. And if the rumors are right, you go far.'"
The conversation gave Lindsay pause. "I started wondering if I was looking at it the wrong way. Yes, it's a silly reality show," she said. "But how many people haven't seen a positive representation of a Black woman, someone who has the chance to be adored by men of all races, backgrounds, professions? I thought maybe the moment was bigger than me."
"I went on the show in part because I wanted to depict a Black woman at the center of a love story," Lindsay continued.
Lindsay also spoke about the Bachelor Nation fandom, and how "toxic" it became over the years.
The Bachelor fandom seemed to be divided into two parts, Lindsay said. "There is a Bachelor Nation, and there is a Bachelor Klan. Bachelor Klan is afraid of change. They are afraid to be uncomfortable. They are afraid when they get called out."
"I'm exhausted from defending myself against a toxic fandom," she shared, which led to her decision to sort-of retire from the franchise.
Now, Lindsay's stepping away from the franchise.
"I'm no longer making myself available to The Bachelor universe (though any contestant, past, future, or present, who needs my advice can call me)," she shared. "To the franchise, I am no longer a figurehead. I am no longer a spot-filler. I am no longer the face of what is diverse."