Serena Williams Shares Sweet Photos Of Her Daughter On Flower Girl Duty
by Leah Groth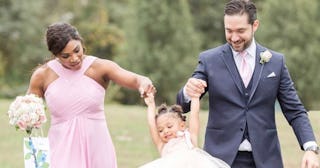 Instagram/Serena Williams
Serena Williams' 2-year-old daughter, Olympia, is literally the GOAT of flower girls
It has come as zero surprise that Serena Williams embraces the whole momming thing like the champion that she is. Since the birth of her daughter Olympia a little over two years ago, the GOAT's social media feed has been filled with photos of her super adorable little girl. She is literally the proudest mama in the world, and it shows. Over the weekend, Olympia was bestowed flower girl honors at a wedding that Williams attended with her husband Alexis Ohanian, and brace yourself for the cuteness, because it is intense.
RELATED: These Flower Girl Dresses Will Probably Steal The Show (Sorry, Bride)
"She took her flower girl job very seriously!!!" Williams captioned the gorgeous photos taken at her friend's wedding, while also congratulating the bride and groom on their special day.
In the series of snaps from the nuptials, where Williams appeared to be a bridesmaid, Olympia literally stole the show. The tot channeled a princess, wearing a blush-pink one-shoulder gown, that featured an exaggerated satin bow.
Williams also looked stunning in a gorgeous pink gown, while Ohanian coordinated with the ladies by rocking a pink tie with his suit.
Since becoming a mother, Williams has been very transparent about the realities of balancing motherhood with a demanding career.
"Last week was not easy for me. Not only was I accepting some tough personal stuff, but I just was in a funk. Mostly, I felt like I was not a good mom," she wrote in a 2018 Instagram post.
"I read several articles that said postpartum emotions can last up to 3 years if not dealt with. I like communication best. Talking things through with my mom, my sisters, my friends let me know that my feelings are totally normal. It's totally normal to feel like I'm not doing enough for my baby. We have all been there. I work a lot, I train, and I'm trying to be the best athlete I can be," she continued.
"However, that means although I have been with her every day of her life, I'm not around as much as I would like to be. Most of you moms deal with the same thing. Whether stay-at-home or working, finding that balance with kids is a true art. You are the true heroes."
In a recent US Open ad, dubbed This Mama Keeps Going, Williams paid an homage to motherhood, giving her fellow moms a powerful message to keep fighting against the odds. The commercial also featured personal family footage. It was truly touching and inspiring.
Although the world sees her greatest accomplishments on the court, Williams considers motherhood the real grand slam win — and we can all relate to that!
This article was originally published on