Trump's EPA Chief Rolls Back Ban On Pesticide Known To Damage Babies' Developing Brains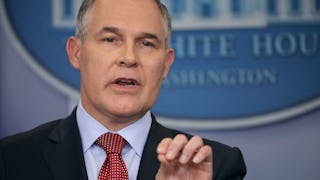 Chip Somodevilla / Getty Images
Chlorpyrifos is a common pesticide sprayed on fruits and vegetables.
It's also a chemical that the Environmental Protection Agency's own federal scientists have determined to be so dangerous that eating even tiny amounts of it can pose serious harm to babies and children's brain development. It was first created as a nerve gas by the Nazis before World War II.
This Tuesday, the Academy Academy of Pediatrics released a statement asking — no, practically begging — EPA chief Scott Pruitt to ban this pesticide, writing, "The risk to infant and children's health and development is unambiguous. […] [W]e are deeply alarmed that the EPA's decision to allow the continued use of chlorpyrifos contradicts the agency's own science and puts developing fetuses, infants, children, and pregnant women at risk."
In November, the EPA, still under President Obama, issued a statement concluding, "There is a breadth of information available on the potential adverse neurodevelopmental effects in infants and children as a result of prenatal exposure to chlorpyrifos." The EPA had conducted a decade-long review of the safety of the chemical.
If its own scientists — as well as other research — have conclusively demonstrated that this pesticide is not safe, particularly for our children, why (WHY?) did Trump's EPA reverse a proposed ban by the Obama administration?
That's a very good question. It's one that every parent deserves the answer to.
A senior scientist from the National Resources Defense Council (which sued the EPA to ban the pesticide) put it quite simply: "The Trump administration is putting the needs of chemical corporations before children's health. Parents shouldn't have to worry that a dangerous chemical might be lurking in the fruits and veggies they feed their kids."
And now we're starting to get a few clues about the motivation behind the current EPA chief's refusal to listen to the scientific consensus on this issue:
The Associated Press reported this week that EPA head Pruitt met privately with the CEO of Dow Chemical (which produces the pesticide) just before reversing the EPA's proposed ban.
California Congressman Ted Lieu tweeted about the meeting yesterday:
After his reversal, Pruitt testified in Congress, insisting that chlorpyrifos is safe. When asked to provide evidence, such as peer-reviewed research, Pruitt could not provide any scientific studies to back his claim.
Dow Chemical has close ties to the Trump administration.
As the Washington Post reports, Dow's CEO, a close adviser to President Trump, was standing right next to the president when he signed an executive order in February to slash government regulations. (President Trump then handed the CEO his pen after signing the order.) The CEO also leads a White House working group on manufacturing. Dow Chemical donated $1 million toward President Trump's inauguration festivities.
Before he was the administrator of the EPA, Pruitt was a state senator and the attorney general of Oklahoma. A conservative Christian, he proposed one of the strictest anti-abortion laws in the nation.
As a parent, I wish that the EPA was headed by someone who demonstrated that being "pro-life" is about more than enacting abortion restrictions; it's also about protecting our children from dangerous chemicals that could cause irreparable damage their developing brains.