Divorce Photoshoot? Why Not?
by Jerriann Sullivan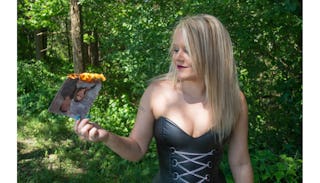 Cake smashing, picture ripping, and dress cutting were all part of the divorce photoshoot
A newly single woman decided to celebrate her fresh independence with an amazing divorce photoshoot. With the help of a photographer friend, Catherine Marie Haberkorn from Dubuque, Iowa created a new way to celebrate the most painful breakup.
Haberkorn went all out to capture the "fuck you and everything you're about" emotions that often come with divorce. She smashed a cake, lit photos on fire, and took a knife to her white dress. "The whole purpose of it was just to have fun and give it a try," Photographer Angela Josephine Ferraro told Scary Mommy. "I haven't done a shoot like this before." The photographer is getting tons of requests for similar shoots now that this one went viral.
Cake is delicious, but smashing one then eating it has to be even better, right? "Smashing [the] cake is me saying that the relationship is over for good," Haberkorn told Buzzfeed.
Catherine walking into her new future like "BYE!"
The former bride chose to step out of her wedding dress in a very different outfit. She explained that the above and below shots symbolized "getting out of the relationship."
"I thought it was a great idea and Catherine is a friend of mine so I was more than happy to work with someone I know personally," Ferraro told us.
"We definitely had fun doing them and even said that we were going to do more photo shoots in the future," the photographer added.
Destroying photos of an ex after a painful breakup is a must so the pair included a few shots of Haberkorn ripping and burning a few. "I think the shoot helped her say her last goodbyes and let go of the terrible past she had with her ex-husband," Ferraro explained. "It really symbolized her being a free woman again, and helping her feel confident about herself again."
The photos resonated with a lot of women online, and thousands wrote supportive comments on the pictures. "Love the entire collection and love that the emotion glows through. Especially love the more sexy side of the images, allowing herself to let go and become herself again, great job," one woman wrote. "This is the first I've heard of such shoots, though. Wish I had thought of this when I got divorced."
This article was originally published on