Mom's 'Solution' To Son's Wall Doodle Goes Viral Because It's Genius -- And Hilarious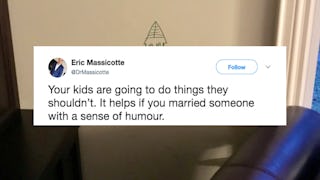 Image via Twitter/Eric Massicotte
We all know the struggle of kids coloring on the wall
Parents of small children single-handedly keep Mr. Clean's Magic Erasers in business and have to be their target demographic, because those things can remove any kid's wall doodle lickety-split. One mom had a different approach to her 6-year-old son's wall art, however, and the result is nothing short of genius.
Eric Massicotte, a neurosurgeon living in Toronto, recently shared photos of his son's latest wall doodle on Twitter. What sets apart this particular markers-on-the-wall malfeasance is the way his wife, Kim, handled it.
She literally framed the doodle. And not just framed it exactly where it stood on the wall, but gave it the full professional gallery treatment. 13/10, would indeed marry Eric's wife.
Here lies the doodle, in its natural, untouched state. In the kid's defense, those white walls look like the perfect canvas for such art.
Here is what Eric's wife, Kim, did to said doodle. She slapped a frame on top of it and gave it a nameplate.
"Interrupted House, 2017. Marker on latex paint. Gifted to his parents, by surprise, Nov. 13th." OMG. I'm dying. Of laughter, and because I want to be friends with Kim.
"These antics are common in our house, we have two very curious boys," Eric tells Scary Mommy. "Our kids never fail to surprise us. I wish we had the time to capture all of their adventures in this way."
The tweet quickly went viral, with plenty of people jumping in to share their own similar experiences.
OK, I would have carved this out of the literal wall to hang onto forever.
https://twitter.com/jetpack/status/930904996497055744
HAHA. This child is our collective spirit animal.
OMG. Can you really be that mad though? It's the thought that counts!
See? You can't stifle the creative mind.
https://twitter.com/jetpack/status/930895214650232834
Massicotte says he's amazed by the reaction to his tweet. "I posted this because we found it amusing at the time," he said. "The fact that it has received so much attention goes to show how universally relatable this situation is, and that kids all over the world are just the same."
This article was originally published on