'RHOBH' Star Erika Jayne Files For Divorce From Husband After 20+ Years
by Madison Vanderberg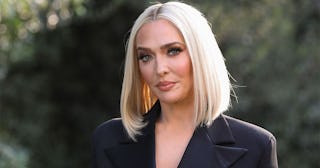 Paul Archuleta/Getty
Erika Jayne and Tom Girardi split after more than 20 years of marriage
On the most important election day of of our lives (!), Real Housewife of Beverly Hills star Erika Jayne decided to slip in and announce that she and her husband of 21 years were ending their marriage. Despite the fact that Americans have more pressing issues than Housewife drama at the moment, Jayne underestimated our need for distraction during this insane news cycle, because everyone is like "OMG ERIKA JAYNE IS DIVORCING HER HUSBAND AND THERE'S NO PRENUP!"
Jayne married Tom Girardi in 1999 after meeting at a restaurant in Beverly Hills where Jayne was working as a server. Their marriage has come under scrutiny by Bravo fans who often lift an eyebrow at their 33 year age different (she's 49, he's 81), but their November 3, 2020 divorce announcement is still rather surprising.
"After much consideration, I have decided to end my marriage to Tom Girardi," Jayne told E! News. "This is not a step taken lightly or easily. I have great love and respect for Tom and for our years and the lives we built together."
"It is my absolute wish to proceed through this process with respect and with the privacy that both Tom and I deserved," she adds. "I request others give us that privacy as well."
The gossip is juicy, for sure, but some fans of the show are honestly not that surprised by the breakup. Jayne wrote in her 2018 memoir "Pretty Mess" that Girardi refused to wear a wedding band and most people found the couple's scenes on The Real Housewives of Beverly Hills to be uh, a little lackluster.
That being said, fans were reportedly surprised to learn in 2017 that the couple never signed a prenup, which is why this clip of Jayne joking about divorce in an early season of the show and saying she'll "get half" is making the rounds. I mean, she's joking, obviously, but she's also not wrong, California is a community property state so yes, correct, she will get half in their divorce.
Jayne also seemed tired of constantly defending her marriage and said as much during an April 2020 episode of the reality show.
"I've dealt with this forever: the younger woman that married the wealthier, older man," Jayne said. "I mean, I'm tired of having to justify my 20-year marriage. Go get a 20-year marriage, then come fucking talk to me."
"Yeah I married a guy that's 33 years older than me and yeah he's got a lot of money, but you know what? He's a fucking good man. And that is the most important thing," she added.
I'm sure we'll find out more about their split in the upcoming season of The Real Housewives of Beverly Hills.