'Escape To The Country' Is The Comforting U.K. House Hunting Show We Deserve RN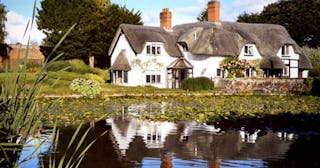 BBC One
Escape To The Country is like Property Brothers meets The Great British Baking Show
If you live in the U.S. and have never seen Escape To The Country, a British house-hunting show about city folks looking to relocate to the countryside, consider this a fair warning that once you start this charming series, you won't accomplish One Single Thing for the next two to three weeks. (You think I'm kidding but there are over 600 episodes.)
The show launched in 2002 and is still airing new episodes, and focuses on prospective homebuyers looking at different homes in the English, Scottish, Welsh, and Irish countrysides. My wee Scottish mother-in-law introduced me to this gem, explaining that she and her friends lovingly refer to the program as "Feck Off To The Country," because buyers literally want to feck off out of the city and into the sticks. I think we can all appreciate that sentiment right now while living in this fiery hellscape.
The show is like Property Brothers meets The Great British Baking Show (mostly for the accents, though all of the kitchens on this show would be amazing spots to whip up a tartlet). It's the most calming shit you'll ever watch in your life and I beg you to put on an episode and ignore your family immediately.
Once you get hooked, you'll find yourself casually begin to check home prices in the Scottish Highlands or in places like Herefordshire, Yorkshire, Cambridgeshire, Gloucestershire, or any of the other shires that allow you to feck off to your heart's content whilst owning sheep, goats, or Highland cows which you will lovingly raise on your nine-acre property. That is when the rest of the world allows Americans back into their countries.
You'll also begin to casually throw around words like thatch roof, AGA, conservatory, and ground floor reception room, impressing friends and colleagues alike.
The only — and I mean only — downside to the show is that the show's host doesn't tell you which property each couple finally selects, so you're forced to just stare hopelessly at the screen wondering for the rest of your life where they landed.
The show also includes some requisite rage-inducing moments like the kind we've come to expect from American HGTV shows like, jokes about man-caves and people who believe their dogs will have a preference of kitchen. And tbh, a little rage viewing is also good in 2020 because sometimes you just need to yell about other people's stupidity.
You can find some seasons of Escape To The Country on Amazon Prime but they are all available on YouTube to watch into the wee hours of the night for free. Good luck planning your escape from America and apologies for never feeling content with the lack of character in your own home again.
This article was originally published on