Grieving Couple Sues Parents Who Hosted Birthday Party Where Their Child Choked To Death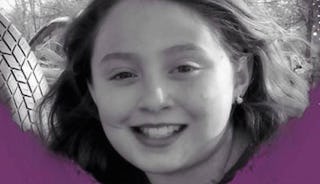 Image via GoFundMe
Family sues for wrongful death after their child choked to death at a birthday party
Nearly three months ago, an 11-year-old girl choked to death on a marshmallow during what was supposed to be a fun party to celebrate her friend's birthday. Now, her parents are suing the hosts of the party for unspecified financial compensation for the death and suffering of their daughter.
Azriel Estabrooks was found unconscious at her friend's birthday party in April. Her mom, Iris Estabrooks, told NBC10 she got a phone call about an hour after dropping Azriel off, letting her know her daughter was found "passed out." She arrived before the ambulance and said no one at the party could tell her what happened. No one realized Estabrooks was choking until paramedics arrived and found a marshmallow lodged in her throat.
The 11-year-old was taken to Hasbro Children's Hospital, where she passed away five days later. On Monday, the Estrabrooks family filed a wrongful death suit in the Bristol County Superior Court in Taunton, Massachusetts, seeking unspecified damages for both their daughter's suffering and their own.
As WPRI reports, the lawsuit alleges the hosts of the birthday celebration "failed to… carefully review food choices to assure that nothing dangerous would be available to the young children, specifically, but not limited to, marshmallows." They also accuse the hosts of failing to "have an adult present who was trained or skilled in clearing the airway of a choking child," and failing to "specifically plan and carry out a protocol that would assure that no young child could wander off without being noticed."Azriel was allegedly unsupervised when she ate the marshmallow.
Steven P. Sabra, the attorney representing Azriel's parents, told WCVB the parents felt they needed to sue because they have "so many unanswered questions." They're seeking all reports and investigation summaries related to the case. "When a healthy, normal child goes to a birthday party and ends up choking to death, questions of supervision and response to the emergency naturally arise," said Sabra, adding that the case is a "reminder of how diligent parents and caretakers need to be" for children in their care.
According to the National Safety Council, choking is the fourth leading cause of unintentional injury death, and at least one child dies from choking every five days. Food is most often the culprit in choking accidents, but it can happen with any small object, anywhere, and at any time. Vigilance and a knowledge of life-saving measures, like the Heimlich maneuver can help, but unfortunately no accident will ever be 100 percent preventable.
This lawsuit has drummed up a lot of questions for other parents regarding safety at parties and who should be held responsible in the case of an unfortunate accident like this one. Obviously, this is a tragic situation and an unthinkable loss for everyone involved. Regardless of the outcome of this case, we hope they're able to find the peace and closure they're seeking.
This article was originally published on