Black Officer Risks His Life To Divert Rioters From Senate Chambers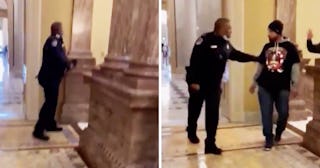 EarlyStart/Twitter
Capitol police officer Eugene Goodman led an angry group of white protestors away from Senate floor
A Capitol Police officer is being called a hero for putting himself in harms way to draw an angry mob away from the entrance to the Senate floor when rioters stormed the Capitol building on Wednesday.
Eugene Goodman was seen in a now-viral video, filmed by HuffPost reporter Igor Bobic, leading the mob away from the Senate floor and up a flight of stairs. Goodman is seen glancing to his left where he notices the hallway to the Senate floor is open. He tries blocking an open door but quickly realizes he is alone fighting what looks to be several dozen rioters.
Armed with a baton, Goodman pushes a man wearing a black QAnon shirt (later identified as Doug Jensen). Jensen didn't seem to notice the hallway leading to the Senate floor, instead pursuing Goodman up the stairs and into a back corridor in an extremely aggressive manner.
Eventually, Goodman is met by other officers.
Bobic posted the video on Twitter, saying, "Here's the scary moment when protesters initially got into the building from the first floor and made their way outside Senate chamber."
Jensen was later arrested by the FBI on five federal charges including knowingly entering or remaining in any restricted building or grounds without lawful authority; disrupting the orderly conduct of government business; violent entry and disorderly conduct in a Capitol building, and booked into the Polk County Jail in Des Moines, Iowa. Jensen's employer, Forrest & Associate Masonry in Des Moines, announced Friday that he had been fired. Five people died as a result of the violence, fueled by President Trump, one of whom was a Capitol officer.
"As trump's fascist mob ransacked the US Capitol, this brave USCP officer kept murderous rioters away from the Senate chamber and saved the lives of those inside. God bless him for his courage," Rep. Bill Pascrell Jr., D-N.J., said in a Twitter post Sunday.
Goodman is an Army veteran who spent time in Iraq, CBS Washington, D.C. affiliate WUSA reported. Many Capitol police officers have been criticized for the security failures that happened that day, and its chief resigned, Goodman is being rightly praised for his quick-thinking and selflessness during a crisis.
Once rioters made their way into the building, a text alert from police was sent to every phone at the Capitol: "Due to security threat inside: immediately, move inside your office, take emergency equipment, lock the doors, take shelter." The videos released since the insurrection, crowds can be heard chanting, "Stop the steal!" and "Where's Nancy? Where's Nancy?" referring to Nancy Pelosi.
Thanks to Goodman, the already terrifying situation didn't get any worse.