Officer Who Held Off Capitol Mob Escorts Kamala Harris To Inauguration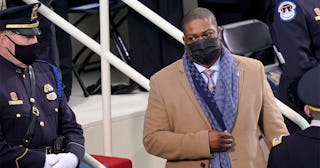 Drew Angerer/Getty
Capitol Officer Eugene Goodman is greeted with applause as he escorts Kamala Harris to the Inauguration
Capitol Officer Eugene Goodman — who you may remember from his heroic actions on January 6, 2021 when he diverted the attention of the Capitol mob and led them away from the Senate chamber, potentially saving countless congress member lives — was just promoted to acting deputy Sergeant at Arms for the Senate and on Inauguration Day 2021, he served as Kamala Harris's personal escort.
The New York Times reports that Goodman walked out onto the steps of the Capitol to huge applause, before later escorting Kamala and her husband Doug Emhoff to the Inauguration, where she was sworn in as the 46th Vice President of the United States, a historic moment, making her the first ever woman — and woman of color — to hold that esteemed office.
CBS News reported that Goodman had just been been promoted to acting deputy Sergeant at Arms for the Senate, as the previous Sergeant at Arms resigned after the January 6 coup attempt. A permanent successor has yet to be named.
It has certainly been a whirlwind 2021 for Mr. Goodman as just two weeks ago he was risking his life during the siege on the Capitol building.
He literally used his body as bait, a Black man, to divert a crowd of angry white insurrectionists away from the Senate chambers and has been hailed as a hero for preventing the mob from potentially breaching the chamber while senators were still inside. In videos from the scene, you can see that Goodman was being harassed by the leader of the mob, a man wearing a black QAnon shirt, who was so focused on chasing Goodman that he didn't notice the hallway leading to the Senate chambers. If it weren't for Officer Goodman's actions, the lawmakers might not have had time to evacuate. Goodman eventually led the mob into a crowd of police officers and the leader of the mob was later arrested by the FBI.
A number of lawmakers have put forth legislation to give Officer Goodman the Congressional Gold Medal for his bravery. "The United States Capitol was under attack by armed, violent extremists, and Officer Eugene Goodman was the only thing standing between the mob and the United States Senate," Republican Florida Rep. Charlie Crist said at the time (via USA Today). "I shudder to think what might have happened had it not been for Officer Goodman's fast thinking and commitment to his duty and his country."
Goodman has not spoken publicly about the attack on the Capitol. He served in the Army, including a year in Iraq and has worked for the Capitol Police since 2009. Give this man all the awards and promotions he wants. What a hero.
This article was originally published on