Eva Amurri Martino Pens Post About Night Nurse Dropping Her Son And Cracking His Skull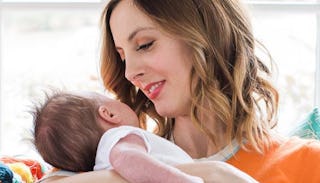 Image via Eva Amurri Martino/Instagram
Eva Amurri Martino pens a brutally honest post about her son's fractured skull and her own mental struggles
Actress and lifestyle blogger Eva Amurri Martino recently went public with the story of her son's head injury, and the mental health issues she is dealing with as a result of the accident.
In a New Year's Day blog post on her website Happily Eva After, Amurri Martino – who is the daughter of Susan Sarandon and mom to two-year daughter Marlowe Mae and 10-week old son Major James – revealed that the day after Thanksgiving her night nurse dropped Major while holding him and he cracked his head on a hardwood floor.
"To say these were the most traumatic and anxious two days of my life is an understatement," she wrote, admitting that one of the reasons she didn't share the story when it happened was fear of judgment. "The internet can be a peculiar place, where some people forget about humanity and go for the jugular."
"I know that this news might reach many, and of those many there will always be the people who say that this accident was my fault. That if it had been me in there holding him instead of a Night Nurse, that this never would have happened. That I deserve this for allowing my child to be in the care of somebody other than me," she wrote. "Well, let me tell you– the guilt I bore in the days and weeks after this accident was more intense and more damaging than anything I would wish upon my worst enemy."
Fortunately, Major healed quickly and is healthy. "[B]y the grace of all of his many angels, and every God one cares to pray to, MAJOR IS FINE. Completely fine," she wrote. "He has been healing well, hitting milestones, cooing, smiling, and generally showing us that he is and will be ok as he grows and develops."
Even though Major is recovering, Amurri Martino wrote that she is not doing well, admitting that the accident continues to affect her to her core and "in all aspects of [her] daily life." Not surprisingly, she has trouble trusting anyone to care for Major. She said she also suffers from panic attacks, dizzy spells, and nausea, as well as trouble sleeping and eating.
She tried to cope using the grin-and-bare-it method so many mothers fall back on, but eventually it was all too much and she reached a breaking point. She said she's getting help now, seeing a therapist, and taking some time away from her blog to deal with what she suspects is some form of post-traumatic stress disorder or postpartrum depression.
In an Instagram post on January 2, Amurri Martino thanked everyone who has reached out with words of comfort or support since she shared the news."Parenthood is not a competition," she wrote. "Nobody gets an award at the end of all of it for doing it the best or most perfect way. All that matters is how we make our children feel, how we feel about them, and how we feel about ourselves as parents." A-freaking-men.
Our hearts go out to Amurri Martino during this difficult time, and we commend her not only for openly admitting to her struggles, but also for offering hope to others who might be struggling as well. Motherhood is hard. Heck, life is hard. Everyone struggles in one way or another, at some time or another. Yet in our social media-driven, picture perfect world where it seems like everyone else has it all together, it can be difficult to admit when we are struggling. It does no one any good, however, to pretend that parenting and life don't get overwhelmingly hard sometimes. In fact, the struggles can help us become better parents and better humans.
"I have always maintained that true happiness can be found even amidst chaos and imperfection," Amurri Martino wrote. "That it is these ups and downs that make us great parents and good people. I have never believed this more than I do now."
This article was originally published on